The Four Focus Areas of Smart Factory Management Transformation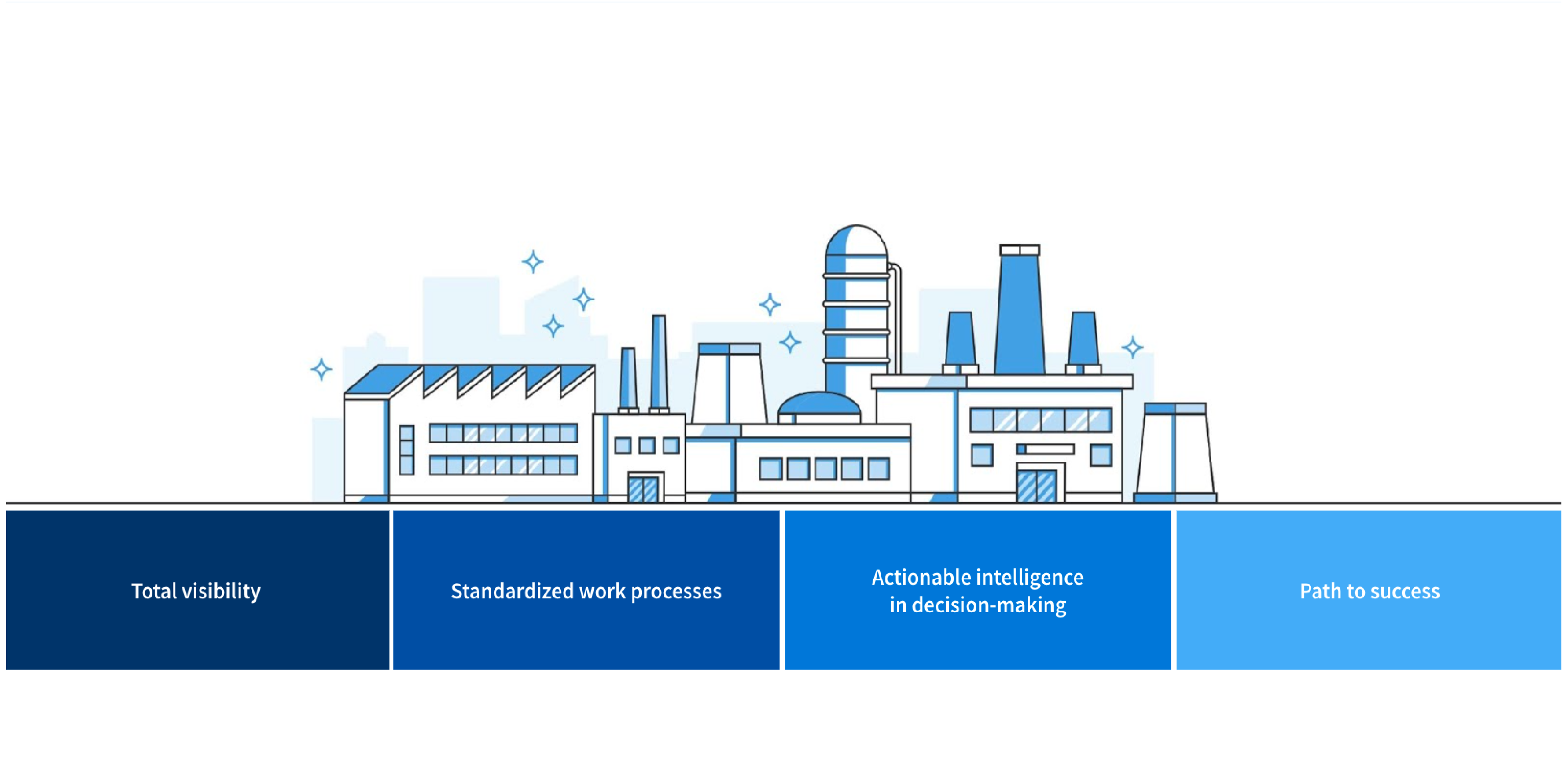 Almost 36 percent of supply chain leaders during our recent factory operations webinar with IndustryWeek said digital transformation in the smart factory means "standardizing and automating manual processes." Frankly, I couldn't agree more.
Whether it's upgrading the factory floor with robotic assembly technology, providing wearable information technology to workers, or proactively predicting inventory needs with artificial intelligence solutions—standardization and automation are a top priority.
But in second place with 29 percent of the leaders' votes, a digital transformation strategy in the smart factory means having total control over end-to-end factory management—a pulse on what's happening across complex businesses.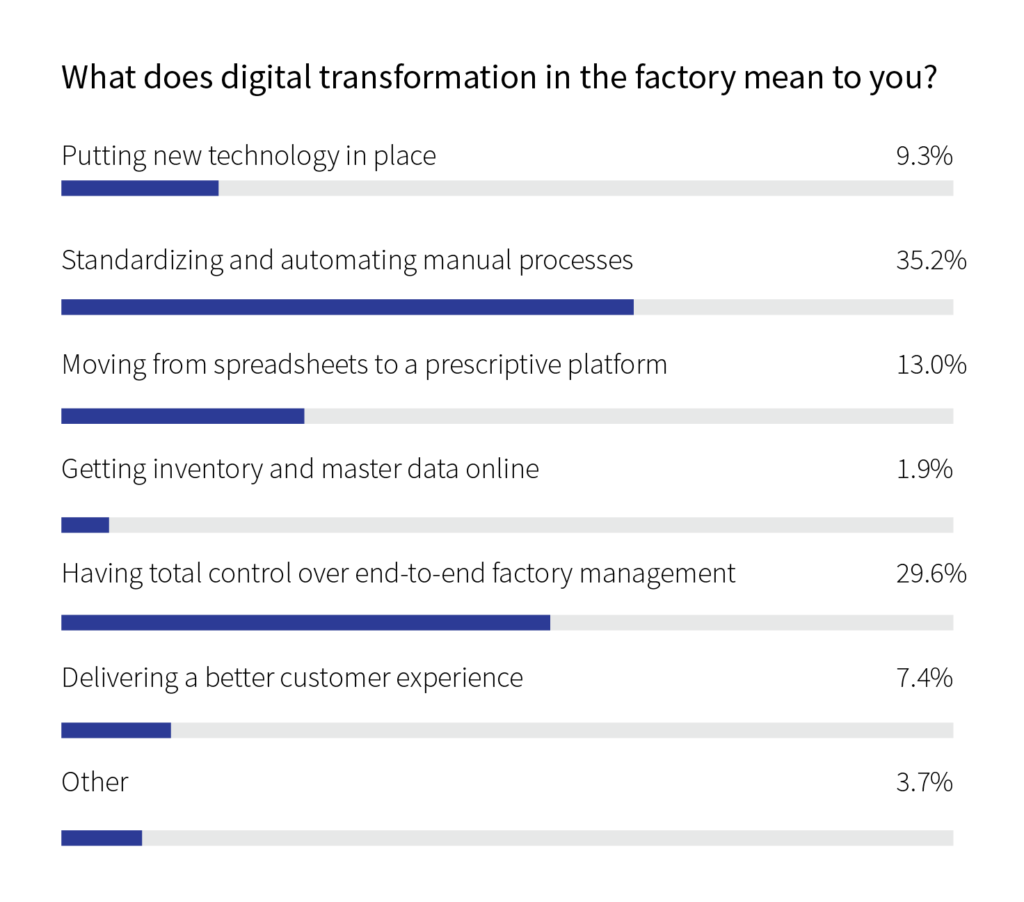 In reality, I'm sure it was difficult for our survey respondents to pick just one of the answers, as "digital transformation" will always evoke something slightly different for each person depending on where they are in their transformation journeys. Ultimately, transforming factory management—the area of the supply chain that holds the most potential—will involve a combination of the things listed in the IndustryWeek survey, including documenting and optimizing processes,  implementing new technology, moving data online, and eliminating the reliance on spreadsheets. To gain total command over your factory operations, teams will need to consolidate, empower, and find new improvements for the people, processes, and technology in your organization. And if you get it right, manufacturers can outpace competition, disrupt the industry, and be resilient during unpredictable situations like COVID-19 and beyond.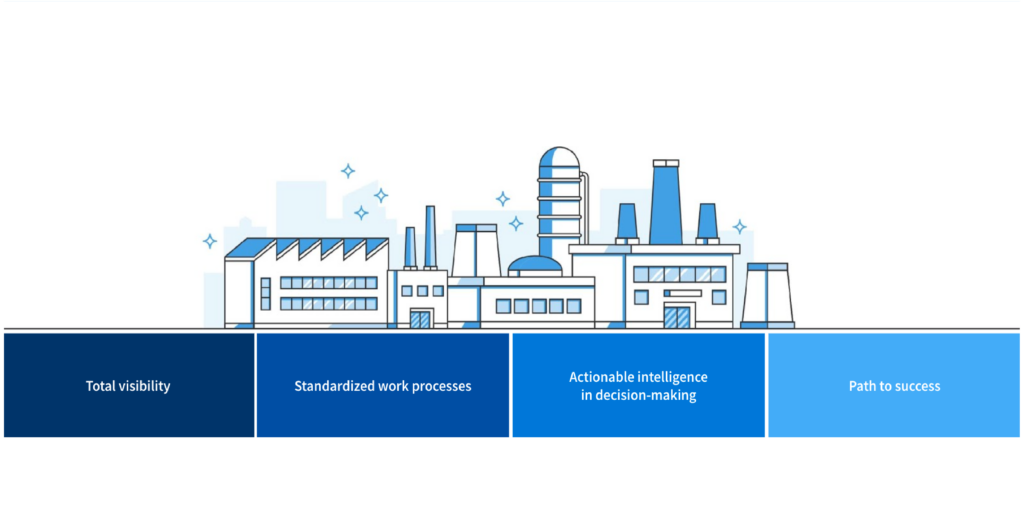 What are the 3 main areas of digital transformation for factories?
When it comes to the factory management capabilities gap, factory leaders are drowning in data. But in the sea of information, they are thirsty for insights and action—no matter the country, business size, or industry. In any organization looking to digitize its factory management process, there are three foundational must-haves to transform your factory into a strategic force for your business:
2. Standardized work processes 
3. Automation and actionable intelligence 
Technology is the backbone of enterprise digital transformation, supporting improved processes for your team to see, analyze, and take action on inventory decisions, no matter the disruption or challenge you face. But a quick note on technology: Existing systems—ERPs, demand management and planning tools, BI suites, MES, WMS, etc.—alone will never be sufficient to solve the frontline challenges teams face every day at the factory level. Actionable intelligence and AI-driven technology (which we will cover in more depth soon) support teams in ways manual processes never will. These three critical capabilities do not replace those common systems but instead sit on top, filling the gap in factory management capabilities today. 
Once you're ready to make the smart factory the epicenter of excellence within the business, technology and standard processes (many of which are born from lean manufacturing principles) are simple to implement with a clear path to success. In the next blogs, we'll explore each must-have—with best practices and examples of how manufacturers are turning their factories into strategic weapons. 
Many manufacturers have embarked on this journey, and we can follow in their footsteps. See more frequently-asked questions asked by supply chain professionals getting ready for transformation, or explore the FAQs below.
Or, click below to see how LeanDNA brings these 3 must-haves to life.

See the 3 must-haves in action

FAQs about factory management transformation
What is actionable intelligence?
Actionable intelligence are/is data-driven insights teams can act upon—the link between analytics and real-time decision making. Enabled by artificial intelligence (AI), it is the transformation of often voluminous and disparate raw data into prioritized, prescriptive recommendations.
What is digital transformation?
Digital transformation is the adoption of processes and technology to empower employees and improve customer experience.  In manufacturing and supply chain, it involves a change in mindset and approach to design, planning, execution, control, and monitoring of activities—all with the help of technology to standardize, automate, and improve efficiencies.
What are some examples of digital transformation?
Enterprise digital transformation is everywhere in manufacturing today. You'll see it in the completely-automated processes for assembly; the automatic analysis of disparate data sources; predictive solutions for inventory management; smart solutions for factory floor operations, such as Google glass technology for workers. Until recently, a "modern factory" conjured images of physical robots and lights-out production lines, but those images leave out a critical capability: The ability to optimize inventory levels, prevent late penalties, and untie excess capital from static inventory. LeanDNA is leading the charge for digital transformation for factory management.
To see how manufacturing leaders are transforming today, meet our LeanDNA-Listers.
Why are businesses embarking on a path to digital transformation?
In short, to better support customers, avoid being disrupted by competition, and ideally, be the disruptor in their space. Supply chain management is unimaginably complex today. Mass customization and globalization increase the vulnerabilities at every step of the supply chain and competition soars. The old, manual processes have not kept pace with changing demands and market fluctuations, so businesses are catching up with enterprise-wide digital transformation—looking to technology and automation to aid in daily decision making to delight their customers and gain a competitive advantage over other organizations in their space.