LeanDNA Partner Program Energizes Discrete Manufacturers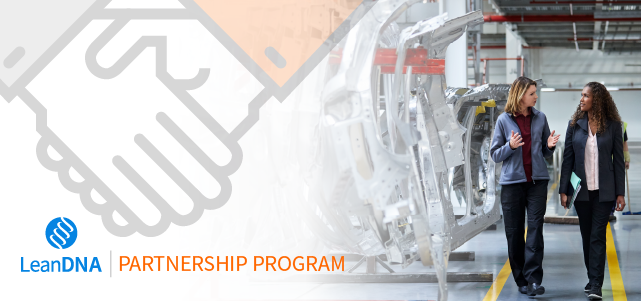 COVID-19, along with other global disruptions, has shed light on the fragile state of our global supply chain. Today's supply chain issues are so vast they are now a mainstream concern. As the spotlight grows, executives are turning to technology to help solve their challenges.
Complex manufacturers no longer have the luxury of an extended digital transformation cycle. Discrete manufacturers face pressures from all directions, with rising inflation on one side and increased demand as forecasts continue to grow.
In 2021, LeanDNA met with industry leaders from technology platforms, consultancies, and Kaizen practitioners to discuss ways we could come together to solve supply chain challenges discrete manufacturers are facing today. We explored ways we could collaborate to surpass the expectations of our customers and help them overcome this very real global challenge.
We Can't Do It Alone
The common thread is that no single partner or technology can address supply chain complexity alone. Whether it's the first or last mile of the supply chain, we need an ecosystem of strategic partners to overcome these challenges.
LeanDNA is excited to announce our official partner program. Together, we can deliver on the expectations and commitments we've made to help customers create best-in-class factories. Our factory-focused solution is your secret weapon to help your discrete manufacturing clients reduce excess inventory, prevent shortages, and drive on-time delivery.
Whether you're a consultant, global systems integrator, or technology platform, we want to work with you to surpass the expectations of our customers.
Consider This
In a recent Gartner release titled "Increase Supply Chain Risk Awareness," they found that, "89% of companies experienced a supplier risk event in the past 5 years." They also noted that "many stakeholders point directly to supply chain/procurement for ownership and call to action." This leaves manufacturers looking for innovative ways to improve their procurement team's ability to execute and understand risk as pressure to perform increases.
Now is the perfect time to acquire new clients and work with existing customers needing a solution for shortage management, inventory reduction, and data validation. LeanDNA is the perfect solution to add to your portfolio.
By partnering with LeanDNA, you will easily expand your procurement offerings and provide customers with the quick wins they need during longer transformation projects. Our award winning customer success team will work alongside your team to exceed customer expectations.
Besides the immediate value your customers will see, our platform helps you unlock data and processes, enabling your team to make further improvements and recommendations as you work with clients, while easily growing your services business.
Let's work together to re-imagine the value clients experience during inventory optimization projects and exceed their expectations along the way.
Want to see how the LeanDNA partner program can work for you? Apply to become a LeanDNA partner today!