LeanDNA Founder and CEO Richard Lebovitz Named Supply & Demand Chain Executive 2023 Pro to Know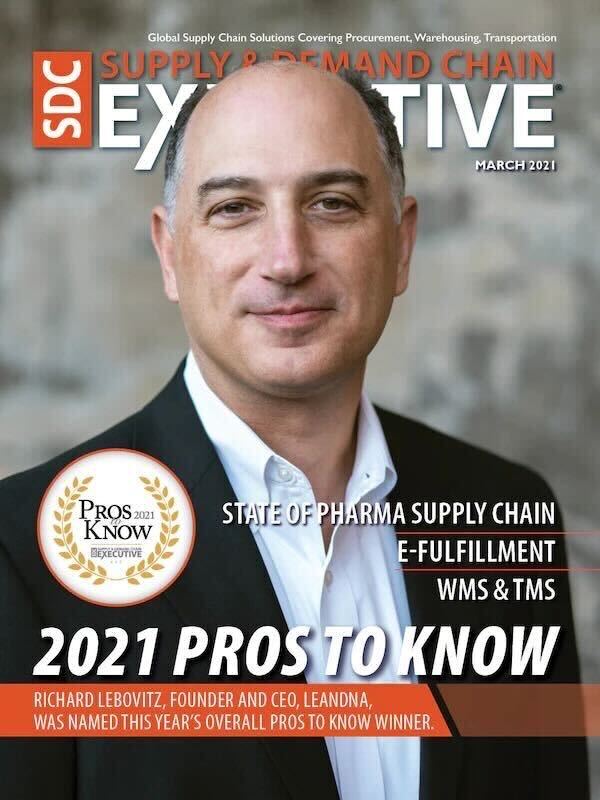 AUSTIN, Texas — March 22, 2023 — Supply & Demand Chain Executive, the only publication covering all global supply chains, named Richard Lebovitz, CEO of LeanDNA, a 2023 Pro to Know. Lebovitz was awarded the singular honor of Pro to Know of the Year by the publication in 2021.
He's been recognized for his commitment to supporting supply chain planning and procurement teams with tools that enable them to create value and efficiency within their organizations.
"We received close to 400 nominations this year, the highest number of nominations ever for this award," said Marina Mayer, Editor-in-Chief of Supply & Demand Chain Executive. "It's proof that today's supply chain professionals are doing great things for the supply chain. They embody what a true leader should be. And, without their initiatives, programs, and collaborative efforts, today's supply chains would be in worse shape."
"I'm honored to be recognized by Supply & Demand Chain Executive for this rewarding work alongside other supply chain innovators," said Lebovitz. "I love helping companies and individuals in procurement and supply chain roles succeed. The factory is where plans and disruptions come to life; inefficiencies can be detrimental, and yet, this area of the business has been unsupported by new technology for years." 
Lebovitz has built his career around solving this problem. LeanDNA's platform itself is purpose-built for supply chain and procurement teams to help heal what's broken. The platform leverages predictive analytics and prescriptive AI to automate inventory actions and promote real-time collaboration across systems, suppliers, and sites. It breaks down the existing silos and allows manufacturing teams to turn their plans into action.
"At the end of the day, we're trying to make the work easier for people. If we can do that, our teams will be happier, more efficient, more productive, and do higher quality work," he said. "The best way to get people to adopt change and successfully drive digital transformation is by providing them with the tools that make their work easier. If we do that, people see more success and we get better stickiness and results."
In 2022, Lebovitz and his team earned a spot on the Inc. 5000 list of America's fastest-growing private companies. LeanDNA nominated one of its customers — HNI – for the NextGen End User Award, which they won at the NextGen Supply Chain Conference. Lebovitz continued his board service to the Association for Manufacturing Excellence (AME), and served as conference tour organizer for their international manufacturing conference.
The full list of 2023 Pros to Know winners is available here.
About Supply & Demand Chain Executive
Supply & Demand Chain Executive is the only supply chain publication covering the entire global supply chain, focusing on trucking, warehousing, packaging, procurement, risk management, professional development and more. Supply & Demand Chain Executive and sister publication Food Logistics are also home to L.I.N.K. and L.I.N.K. Educate podcast channels, L.I.N.K. Live, SCN Summit, SupplyChainLearningCenter.com, Women in Supply Chain Forum and more. Go to www.SDCExec.com to learn more.
About LeanDNA
LeanDNA is a leading inventory optimization and execution platform that is solving the execution gap in the supply chain. This cloud-based platform synchronizes execution across the supply chain, empowering manufacturers to prioritize and collaborate to resolve critical material shortages and excesses. With LeanDNA, manufacturers in industries that include aerospace, industrial, automotive, and medical know they will get the right part in the right place at the right time. Learn more at leandna.com.
Contact (For Media Only):
Jodi Bart Holzband
Classic Bart PR & Communications
jodi@classicbart.com