Building Manufacturing Efficiency in Today's Fast-Changing Environment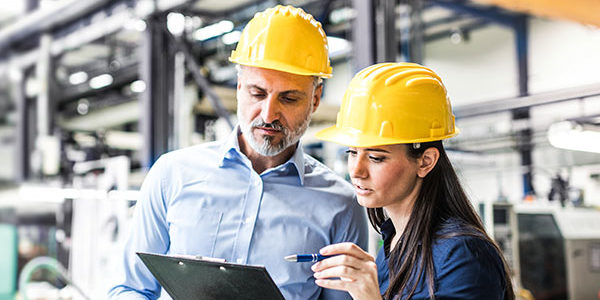 Manufacturers are feeling it: Stresses on procurement workflows have been growing for years due to the global and heavily customized nature of today's supply chains. The pandemic further exposed cracks in oversight, priorities, and daily tasks, resulting from tighter budgets and increased constraints across factories. These shifts pose a significant challenge to procurement teams' daily work: How can teams do more with less, while also making incremental progress toward organizational goals?
This is a tough challenge, but an important one to get right—closing the manufacturing efficiency performance gap means organizations can operate at 57 percent lower cost.  With so many variables at play, you can't abide by the same centralized supply-chain planning strategies and wait for change management to trickle down through the organization. Unlocking supply chain efficiency with fewer resources—and creating a disruption-proof plan—begins with providing processes and tools to recalibrate front-line teams' daily actions to organizational goals.
We see industry leaders achieve this by boosting visibility and accountability on inventory operations, equipping teams to prioritize the most critical actions every day, and operationalizing it all with standard, repeatable processes. So, what are these leaders doing differently?
Improvements in visibility yield increased accountability
When buyers work from home and use a hodgepodge of tools and offline reports, it's difficult for procurement leaders to have strong oversight into inventory operations. It's no wonder 87 percent of supply chain executives are using the pandemic as a catalyst for digitization and process overhaul—they can't manage what they can't measure.
Improved visibility into fast-changing inventory demand, production requirements, and buyer performance means leaders can reassess daily processes with buyers' actions in mind—and make sure those taking critical actions each day are aligned with current inventory realities.
To improve manufacturing efficiency, supply chain executives and managers first need a single, holistic view of metrics across sites and business units. Then they can gain operational command over team performance and understand how daily actions ladder up to inventory levels and value. This method of inventory control enables an operation that runs on buyer performance, individual accountability, and collaboration. With increased visibility into buyer performance, leaders can hold teams accountable to improvements in inventory reduction and shortages, or provide more support if needed.
Instead of running constant fire drills, realign priorities by value
Once teams identify their biggest vulnerabilities or points of impact, they can understand where to shift resources and prioritize time. Buyers today run against the enormous responsibility of manually diving through their exploding list of ERP exception messages and reports, most often tackling the fires that need to be put out first based on a myriad of criteria. Very few organizations have processes in place to ensure buyers aren't spending too much time on manual tasks. And as a result, it's challenging for buyers to act with consistency, with accurate data, or in a way that meaningfully impacts the business.
Yet, every procurement team knows that when demand changes fast, today's inventory priorities may change tomorrow. Fire drills are inevitable, but they don't have to take away focus from ongoing inventory and shortage reduction goals. Many procurement leaders ensure every member of their team can take advantage of their biggest inventory optimization opportunities—in addition to fighting the inevitable fires—by:
Monitoring inventory and shortage KPIs, and shifting budget and team resource allocation around changing demand and business priorities
Pulling updated inventory and ERP data each night, so priorities can be re-evaluated and refreshed daily
Enabling teams to measure inventory spikes and excess by dollar value, and developing processes for individuals to prioritize highest-value issues first in their daily tasks
[Top supply chain teams use Shortage Attack Teams to prioritize business-critical opportunities in daily workflows. Learn how.]
Some teams are even taking this a step further, using automation and AI to surface their organizations' biggest opportunities. When buyers focus on and automatically prioritize the most critical inventory optimization opportunities for their business each day, they can stay productive and execute on time. Teams, such as Electrical Components International, have used this methodology to create Shortage Attack Teams, achieving up to a 30 percent shortage reduction. 
Plans turn into action with repeatable, achievable processes
Once everyone is aligned on the same priorities, procurement teams can start chipping away at goals. Instead of sending individuals out with vague directions, many teams are re-imagining daily buyer workflows as consistent processes that enable teams to break down projects into repeatable and achievable daily tasks, in order of impact and industry best practices. This enables every member to consistently drive improvements in the organization every single day and feel confident in their actions.
Some teams even improve manufacturing efficiency by using automation and root-cause analysis to recommend when buyers should purchase, cancel, or split orders. Using this method, buyers can quickly drill into details that matter, solve issues at a part or supplier level, and communicate with peers, saving them time. Then, they can use the same criteria, processes, and actions every day to continuously improve inventory levels.
According to Terumo BCT's Direct Procurement Manager, Ben Galka, it's possible to re-envision the mountain of work on buyers' desks into approachable daily actions. He uses automation to surface prioritized tasks for his team, giving his team the ability to understand the root cause of issues and standardize the processes to tackle them across the organization. This approach gives his team of buyers the autonomy to solve problems collaboratively, the context to solve issues holistically, and confidence that they're making the right, proactive decisions.
Operate with agility with optimized inventory decisions, daily
Today's work environment demands a recalibration of how supply chain teams approach work—the traditional top-down approach can no longer be an option. With fast-changing demand and fewer staff resources on hand, supply chain leaders can no longer afford to have buyers run the same fire drills over and over. By codifying a standardized, repeatable, and prioritized process into each team member's daily actions, supply chain leaders can ensure no moment is wasted, driving productivity with fewer resources.
To improve manufacturing efficiency, leaders need to use tools and automation to align teams and hold them accountable for driving organizational goals in a collaborative way. Now is the time to empower procurement teams to tackle issues, operate with agility, and drive results, no matter what disruption strikes next.
CURIOUS HOW OTHER BUSINESSES ARE SIMPLIFYING WORK AND CREATING NEW EFFICIENCIES WITH FEWER RESOURCES?
Read about LeanDNA's inventory optimization workflows.