3 Ways Leading Manufacturers Are Using Technology to Improve Supply Chain Strategies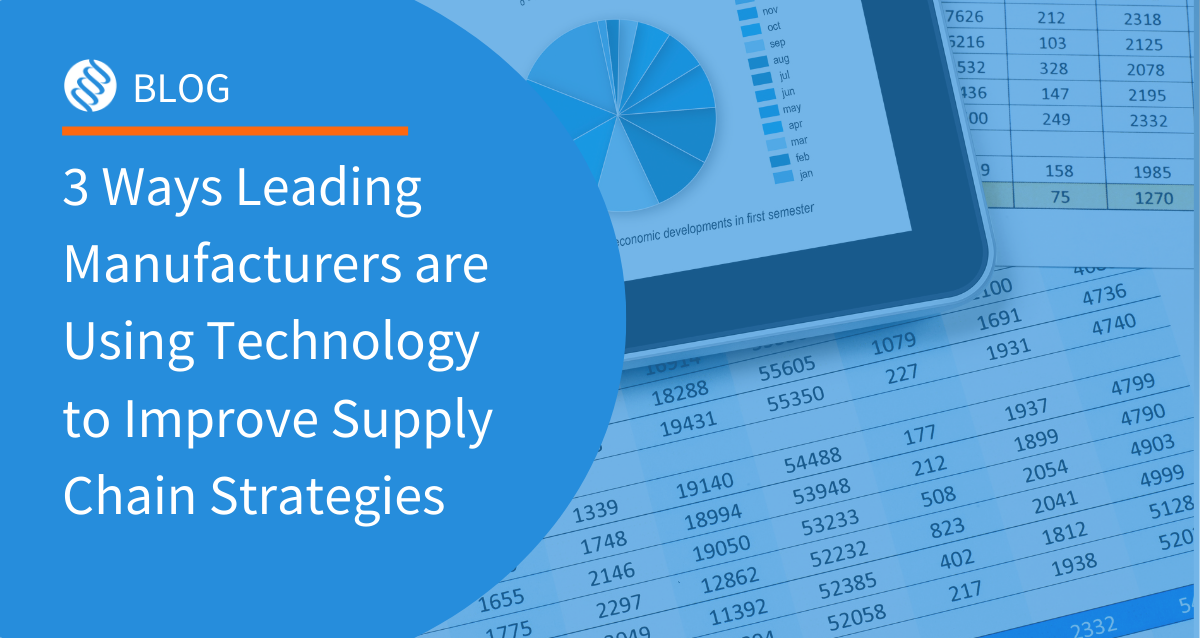 How Supply Chain Management (SCM) Been Impacted by the Shortage Economy
There has been no escaping supply chain disruptions. Manufacturers across the globe experienced a new set of challenges due labor and supply shortages.
Andrew Shoppa, a supply chain management expert, stated–that before the COVID pandemic, HNI Corporation was consistently operating around a 99% complete on-time rate for shipments from suppliers. During the organization's lowest point in the shortage economy, they were operating at a rate of 78%, which greatly affected their ability to perform for their customers.
However, HNI was not alone, other manufacturing leaders have experienced supply chain delays which have negatively impacted their on-time customer deliveries.
Gordon Van Champ, a seasoned supply chain leader from Chamberlain Group, found that many of their sourcing issues could be traced back to overwhelmed ports. Chamberlain had not diversified their sourcing, which put additional pressure on individual suppliers who were already overflowing with orders.
Has your supply chain been impacted by the shortage economy?
Ways scm are pivoting their strategies to prepare for supply chain disruptions 
Supply chain management leaders are shifting gears in an attempt to combat supply chain disruptions. From planning for remote work to new supply chain technology, staying stagnant is not an option.
Before the pandemic, manufacturers had never experienced the level of remote work we continue to see today. Many traditional organizations did not embrace a work from home business model until they had to. However, now that remote work is common for many roles, manual processes are no longer efficient practices for resilient supply chains.
With the shift to remote work comes a major need for collaborative technology to unite workers, wherever they may be. Deserie Marchbanks from PSG Dover explained why these technological tools were essential when their teams went remote for almost 16 months. "Not only do we have a supply chain shortage," Deserie described, referring to the start of the new shortage economy, "we had an increase in sales and demand such that we had to try to monitor our lead time to our customers, ten to 20 days. But our average supply chain lead time is 90 days for the average component. Trying to manage that, obviously with the ports and everything else, we did stuff with our parameters that we wouldn't normally do."
Using LeanDNA, Desiree and her team were able to set new MRP parameters and add time to their post processing to avoid affecting the supplier lead times on their purchasing order while changing the MRP output her team would see in their advanced tools.
The tidal wave of new technology in supply chain strategies can be overwhelming for some organizations, but with the right tools in hand, many manufacturers are on the path to overcome supply chain disruptions.
How are leading manufacturers using advanced technology to optimize their supply chain strategy?
Gordon Van Champ – Chamberlain Group
Learn how Gordon Van Champ navigated working remotely by introducing technology that keeps the organization on track to hit their targets.
Andrew Shoppa – HNI Corporation
Learn how Andrew Shoppa and his team at HNI strove for success in the new shortage economy to achieve pre-pandemic on-time delivery rates through inventory optimization and enhanced workflows.
Deserie Marchbanks – PSG Dover
Learn how Deserie has connected with her team through a collaborative platform that helps track performance, enhance knowledge sharing, and strengthen communication for clearly aligned goal-setting.


Download Your Complimentary Shortage Attack Guide
Is your organization being affected by the manufacturing skills gap?
Manufacturing businesses are struggling to attract and retain enough skilled workers to fill all the necessary roles. In the supply chain, labor shortages are largely due to a lack of available education programs, both in schools at all levels and internally in organizations that would help workers cultivate new skills.
Learn how to close the manufacturing skills gap.  
Looking to improve efficiency across inventory and project management systems?
After struggling with inefficient processes, labor-intensive reporting procedures, and a lack of standardization, one business was able to make a turn for the best. See how this automotive manufacturer drove supply chain visibility that led to $10M in savings.