2022 Gartner Supply Chain Symposium: Key Supply Chain Insights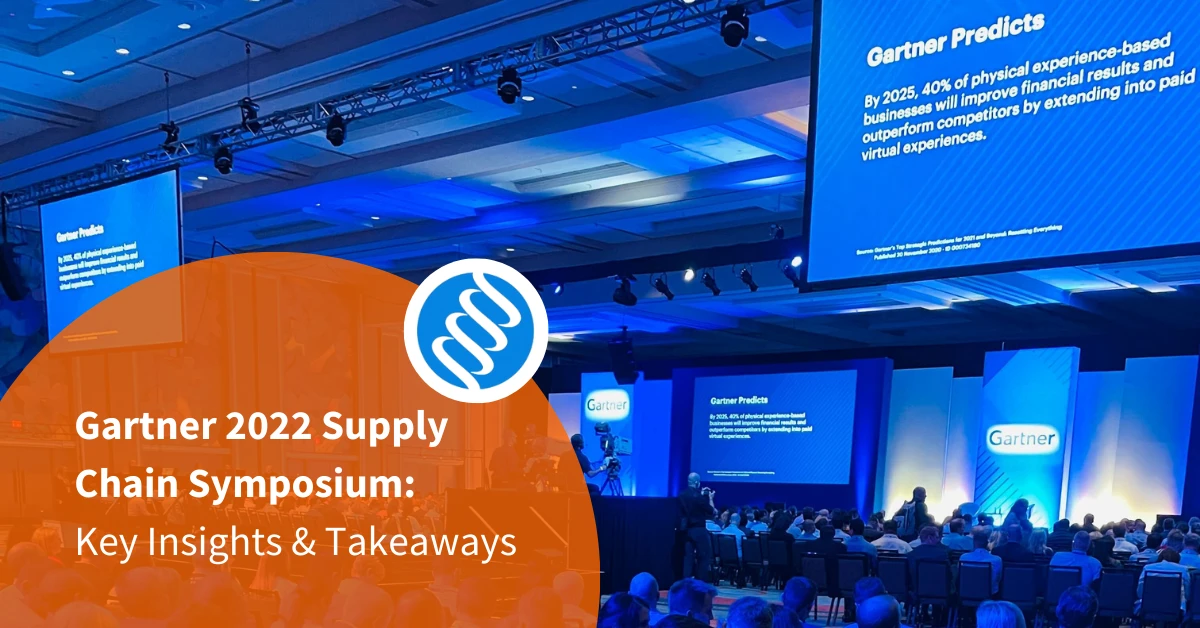 Gartner Supply Chain Symposium and Key Supply Chain Insights Recap
The severity of the various supply chain disruptions have contributed a new set of challenges for manufacturers across industries. The impacts of these supply chain predicaments have forced organizations to pivot and adapt to ongoing, unpredictable changes. For leadership to expand their visibility and enhance team collaboration, they must re-calibrate their supply chain.
In attempts to adjust to a modernized approach, organizations have adopted technology at an increasingly fast rate.
Gartner reported, "88% of manufacturers have invested in technology, but out of those surveyed, only 5% have noticed long-term results".
 One of the leading elements attributing to the difficulty of implementing technology is that it is too complex for manageable results. Manufacturers utilize technology to make their jobs easier, but unfortunately it is actually doing the opposite.
Gartner stated that, "even after implementing technology, 83% of the workforce still feels overwhelmed."
These users are having difficulty utilizing this complex technology for various reasons; whether it is from incomplete training, utilizing technology that does not speak to one another, or cognitive overload with constrained decision making.
To gain a quick time to value, advanced manufacturing technology needs to shift from complexity to simplicity to achieve sustainable results.
Supply Chain Technology Trending Topics
The core discussions around technology at the Gartner Supply Chain Symposium were focused on:
The need for leaders to pursue unconventional solutions that simplify the management of complex supply chains and reduce cognitive overload.
Aligning technology goals with the business strategy and utilizing tools effectively for a return on investment.
Clear visibility through augmented intelligence for collaboration opportunities and performance measurement
Innovative approaches for continuous collaboration between humans and technology to increase their collective ability to make better decisions
Gaining business value through leveraging actionable insights for dynamic execution of real-time decisions
Shift from Traditional Supply Chain Planning to Operational Execution
Highly Complex Processes are not adaptable
The supply chain economy and customer demands are rapidly changing, pushing companies to quickly adapt their customer understanding and solution development. This pressure to evolve processes cannot happen overnight.
Jumping from traditional processes like using stale spreadsheets to modernizing too quickly by diving straight into automation can be difficult to maintain results. Highly-complex automation technology is not only costly, but can also come with quite the learning curve. If the technology is not designed to be human centric and strategically implemented, then there can be a lack of adoption or utilization which can lead to disappointing results.
It is important for organizations to embrace technology but at a steady pace to build strong user adoption and establish trust in the new process. There are stepping stones supply chain leaders can introduce as they pave the way to full automation from top to bottom. Augmented intelligence is bridging the gap between previous conventional methods and advanced automated procedures while influencing collaboration across the workforce.
The main differences between using Business Intelligence (BI) and Augmented Intelligence (AI)
On a broader scope, business intelligence is a resource for process analytics, data mining, performance benchmarking, and descriptive analytics. Their primary purpose is to understand what happened in the past and why. While this is helpful to managers, it offers little for the team responsible for daily execution. In the manufacturing supply chain sector, it is typically used to show organizations how they are currently doing without reasons as to why they are getting those results or suggestions on how to improve.
There is a growing need for prescriptive analytics and purpose-built workflows that can identify what might happen in the future and provide specific actions that will improve the outcome. Effective supply chain manufacturing technology continuously feeds data back and forth from the ERP for proactive, real-time planning and management. SaaS platforms can be used in conjunction with ERP systems for continuous, response-planning.
Augmented intelligence is designed for a human-centered partnership model to build the relationship between user and machine to enhance cognitive performance for learning, decision making, and collaboration.
Choosing the Right Solution to Maximize Your Return on Investment
Technology leaders in supply chain innovation are deploying unconventional solutions that complement existing technology to help their team focus, prioritize, and execute. Leverage AI to reduce the burden of complex decision making and enable supply chain teams to focus on delivering value versus driving down costs.
Key components to look for in supply chain technology before implementing:
Assess the difficulty of implementing, training, and managing technology ahead of time
Determining your organizational needs to pick the right solution to simplify processes, not make them more confusing
Set goals to measure the return on investment for your company
The right solution, with the capabilities mentioned, will bring enhanced collaboration throughout your organization. Consolidating tools through a unified platform enables individuals across-functions to communicate and review to promote teamwork. Along with strengthening the partnership between supplier and manufacturer with a new range of visibility within the same platform.
LEARN HOW YOU CAN ACHIEVE FAST AND SUSTAINABLE RESULTS IN LESS THAN 6 MONTHS WITH LEANDNA
With LeanDNA's supply chain management platform, you can establish a new level of collaboration:
Consolidate tools through a unified solution for individuals across-functions to communicate, review, and problem-solve to reinforce teamwork
Strengthening the partnership between supplier and manufacturer with a new range of visibility
Make better informed decisions with actionable insights that save time and resources so employees can focus on higher value tasks
To learn more, read how LeanDNA has helped manufacturers see a return on investment in an average of five months or talk to a member of the customer success team today!
Looking to improve your inventory management optimization strategies?
Whether your organization is having difficulty with visibility or actionability – many of today's top manufacturers are struggling to find the inventory optimization processes that yield sustainable results. However, that can all change with the right solution and strategy – see how leading organizations are implementing strategic supply chain trends to stay ahead of the competition.
Check out the top manufacturing supply chain trends in 2023
The future of manufacturing 
Today's information technology capabilities go beyond just storing data. Cloud based solutions can change the trajectory of the supply chain industry by maximizing the value across teams and technology.
Graco Supply Company, a leading manufacturer in the aerospace industry, recognized the need for more advanced technology solutions, and used LeanDNA's cloud based solution to save millions.
Learn more about Graco's implementation of advance technology