Shortages are dominating the headlines. The COVID-19 pandemic brought monumental challenges to the supply chain, culminating in what experts deemed "the perfect storm." The added pressures of the pandemic overwhelmed manufacturers already struggling with changing market trends and outdated technology. At the beginning of the pandemic, demand was volatile and the shelves were bare. Now consumers around the world are getting used to this new shortage economy. 
But how did we get here? This topic and more were addressed by leading industry experts in "The State of Supply Chain 2022 Webinar" hosted by LeanDNA and The Association for Manufacturing Excellence (AME) in response to the recently published "The State of Supply Chain 2022" report. Below we'll address the factors that led us to our new shortage economy.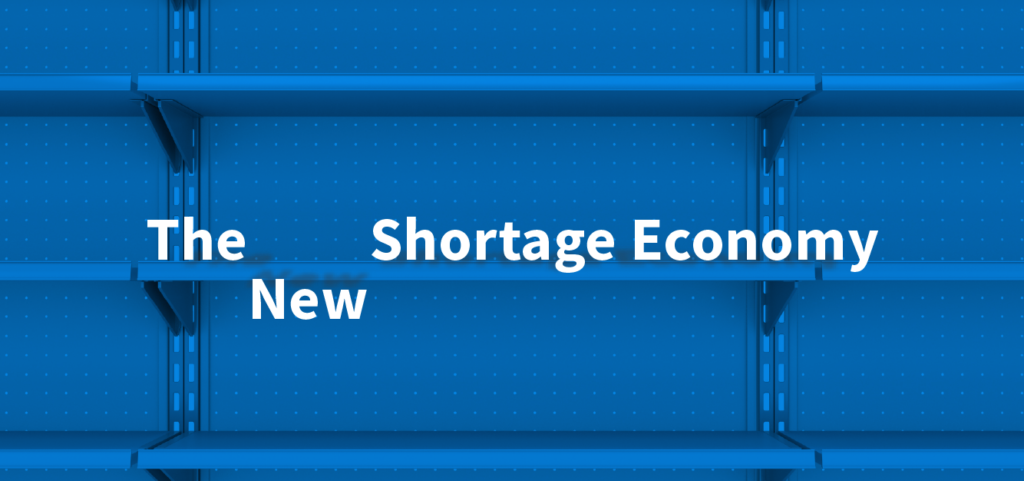 Increased Customization and a Globalized Supply Chain 
According to Richard Lebovitz, Founder and CEO of LeanDNA, there are two big trends from the last ten to fifteen years that have majorly contributed to the problems manufacturers are facing today. The first is the increasing levels of product customization. From grills to airplanes, marketers and consumers alike love the increasing number of options and configurations in different consumer goods. However, it actually creates a lot of challenges for the manufacturers that need to create those highly customized goods. The second major trend is the globalization of the supplier base and the increasing levels of the tiers within those suppliers as manufacturing has shifted to more assembly. Part of this trend has been driven by outsourcing to achieve the lowest cost price, but there was a failure to consider the impact this has on delivery. 
To address these two major trends, manufacturers are still relying on spreadsheets as their primary tools in factory operations. While that may have been effective for the last several decades, the complexities of today's supply chain have far outpaced the capabilities of traditional spreadsheets. 
Listen to Richard Lebovitz's full take on how these mounting issues directly contributed to our current shortage economy.
Industry-wide Talent Shortages
As Louis Librandi, Principal at Deloitte Consulting, puts it, "no one's exempt from the challenge of attracting talent" right now. From truck drivers to buyer and planners, companies are having a hard time attaining and retaining their talent base. Sometimes products that have been assembled and are ready to get shipped out get stuck waiting in loading docks because there's simply no one to transport them from place to place. This lack of people at various points throughout the supply chain has contributed to longer lead times, delayed deliveries, and, in turn, shortages. The reasons for this supply chain talent shortage range from burnout due to poor work-life balance, career development, and compensation, among others. While manufacturers are taking a myriad of approaches to solve this workforce shortage, it's almost too soon to tell how this issue can be best addressed and the implications it will have on the supply chain over time. 
Watch Louis Librand's full take on how the difficulty of attracting talent is hurting supply chain teams.
An Unprepared Supply Chain
When the pandemic hit, demand was unpredictable and volatile. For Robert Martichenko, AME board member, the idea that manufacturers could be ready, with either inventory or capacity to react to demand going up ten times, is just not reasonable. Nor should it be expected. When manufacturers decide how many factories to build, what machines to use, the square footage of warehouses, and more, they make those decisions based on an idea of what they expect demand to look like. That all went out the window when confronted with unstable demand and consumer buying trends. Many companies saw the bullwhip effect in action, with consumer demand having a monumental effect in upstream operations. According to Martichenko, "the new world of trying to understand demand fluctuations is all about supply chain risk decision making." 
Learn more about Robert Martichenko's full perspective on supply chain risk, watch the video below.
There's no sole explanation for how we got to our new shortage economy. Amongst other things, a lack of technology, a worsening talent shortage, and a more complex supply chain all played a part in these disruptions. And, even though right now shortages are the main point of concern for manufacturers across the globe, many companies are starting to see a significant increase in inventory levels in an attempt to meet future demand spikes. Could the next challenge facing manufacturers in the coming years be costly excess inventory? It's very likely. But for now, manufacturers need to get on top of shortage in order to stay competitive and profitable.
No matter what challenge manufacturers are facing, whether it's shortages or excess inventory, not doing anything gets expensive. To overcome these challenges, companies need to empower their supply chain teams by providing the right tools and technology that can help them gain visibility into real time data, and provide effective workflows and best practices to better navigate daily disruptions. Digital transformation is the key to success. 
Ready to learn more? Check out the full "State of Supply Chain 2022" webinar below. Learn how you set your company up for success despite the obstacles facing today's manufacturing industry.