While most companies have made significant investments in modernizing and automating the factory floor, not many people are talking about the other part—you may call it the back office, or factory management, or factory operations. We call it the secret to unlocking a massive competitive advantage.
I recently presented on IndustryWeek's webinar, Lessons from COVID: Why Factory Operations Are Key To Manufacturing Survival, alongside my colleague Senior Director of Solutions Engineering Daniel Taylor, and Mike Louderback, VP of Operational Excellence from Morgan Advanced Materials. We dove into the state of the factory management system, an area that's underutilized and more important than ever. The capability gap has been around for a while and was exacerbated when the COVID-19 pandemic hit. This gap has costly repercussions on inventory teams, but we've seen firsthand that there are some simple ways to address the gap that also mitigate risks and empower more than just the factory floor.
WHAT IS THE FACTORY MANAGEMENT CAPABILITIES GAP? 
At LeanDNA, we have the opportunity to speak and work with manufacturing, supply chain, and operations leaders at manufacturers all across the globe every week. We understand that managing, and optimizing inventory has become incredibly complex—driven by things like the globalization of the supply chain; customers demanding more customization and configurations, and driving up the number of SKUs and parts; mergers and acquisitions bringing on disparate systems, ERPs, and data challenges; and then, of course, the issues of demand fluctuation and supply disruption (read: COVID-19 and similar events). 
As time and complexity have progressed, technology just hasn't kept up: Despite substantial investments in ERP and MRP systems, planning tools, business intelligence, and other tools, the reality is that in most manufacturing companies, factory management software has been left out of the digital transformation journey. We call this the factory management capabilities gap. The tools available to manage inventory decisions have not kept up with the complexity, so most teams are still using home-built solutions or manual, error-prone spreadsheets. As a result, you're probably always in a constant state of "firefighting."
The majority of our IndustryWeek webinar audience said their top focus area for filling the factory management gap was to reduce operating costs, and understandably so. This  capabilities gap has led to costly business challenges for most manufacturers:
Excess working capital tied up in inflated inventory—money left on the table for other investments. 

Expedite fees, overtime, delivery delays and late penalties caused by critical shortages (not to mention the feeling of always chasing shortages with no reprieve). 

A lack of visibility into inventory, shortages, and critical KPIs across sites, ERPs, product lines.

The inability to see a couple steps ahead of what's coming, quickly conduct a root cause analysis, and mitigate challenges before they cause more problems. 

A flood of data from disparate sources and systems, and yet still a dry spell of actionable insights for many leaders and professionals.  

And lastly, despite even herculean efforts, the lack of tools, processes, and accurate data makes it almost impossible for teams to do their very best work, make optimal decisions, and feel productive and satisfied with their days—leading to massive turnover and increasing overhead for new hires and training.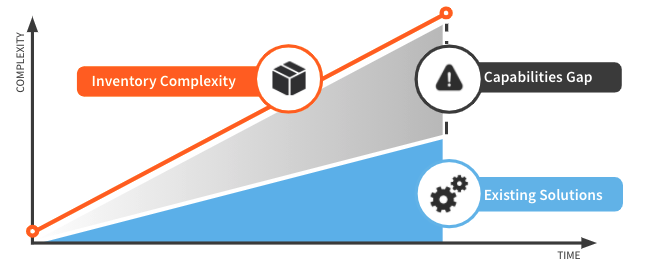 Louderback from Morgan Advanced Materials, said it best: "The problem that we're seeing is that the user interface and the ability to manage all of [the complexity] has not kept up. And so, you might end up with a significant ERP capability if you can deploy at all, but there's an inherent lack of front-end capability to extract that data and use it in a consistent and standardized fashion to make decisions from. [ERPs] trap the data."
HOW COVID-19 WIDENED THE FACTORY MANAGEMENT GAP
As if these challenges weren't already enough, then we had a global pandemic. For most companies, COVID-19 forced manufacturers to take inventory control and supply chain plans and throw them out the window. 41 percent of supply chain leaders say production times have lengthened, 10 percent of the workforce was furloughed, and 80 percent of leaders said they were not confident in their levels of visibility needed to take action.
"We run a pretty tight business, but as you can imagine, the pandemic impacted us at many levels. The biggest piece for us is inventory," Louderback said, who manages a diverse, growing supply chain at Morgan, managed within multiple ERP systems across the business. Managing the swing—the dynamic demand shifts Morgan experienced during COVID-19—through MRP to their supply base was a huge challenge. "The systems, which have a manual component for us, were really struggling to keep up. We saw an inventory momentum: Our inventory was wildly swinging, and we were trying to adapt or adjust our manual input." The inventory gap went up significantly over three to four months during COVID-19. 
The innovative team at Morgan had to do some heavy lifting, but thanks to Louderback's leadership and cutting-edge mentality to address their factory management needs 2 years ago, they were ahead of the curve in implementing a solution that gave them a strategic advantage during the pandemic. The team was able to close their inventory gap, most successfully, Louderback said, in the areas where they could lean on systems to consolidate ERP data and key KPIs into a single source of truth—the first step in filling the factory management gap (and of course, I'm happy to say their system of choice was LeanDNA).
THE POWER OF A FACTORY-CENTRIC STRATEGY
2020—through its trials, tribulations, and heartbreak—shined a bright light on the lack of tools and standardized processes in place for factory management. Now, most leaders are making factory digital transformation one of their top priorities for this year, which means the capabilities gap will be filled at last. Factory management, while neglected by many, holds the keys to unlocking the strategic value of the factory, bringing operational agility and significant financial benefits. The teams equipped with these new capabilities are also much more productive, engaged, and satisfied with their daily work and impact.