After going virtual the past two years, The Association for Manufacturing Excellence's (AME) 38th annual international conference will finally be back in person this year in Dallas. In mid-October, this event will bring together lean practitioners from nearly every role and every industry across the globe. This is one of the biggest conference events in the country for manufacturing and operational excellence, showcasing a variety of local tours, keynote speakers, interactive presentations, networking opportunities, and more.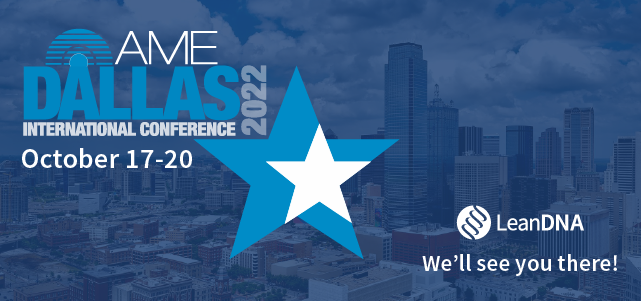 The theme of this year's international conference is embracing disruption. The challenges facing manufacturers the past several years, and the technology created to help solve for them, has been changing and progressing rapidly. Embracing that change and owning disruptive forces is key for forward-thinking companies to thrive and deliver value to their customers. At this event, AME will be highlighting technologies that are changing the way work is done and the leading practitioners who are bringing incredible changes to their business and manufacturing as a whole.
"You're not just going to a conference, you're joining a movement to improve manufacturing, health care, the public sector and other industries in ways that are human and make people's lives simpler, easier and safer."
In relation to this event, LeanDNA is excited to be putting on a combination of both onsite and virtual tours in tandem with a variety of manufacturers. We'll dive into the methods keeping manufacturers successful amidst an ever-changing market and the technology that empowers their teams' work. It will be an opportunity to see best practices live on the shop floor. Stay tuned, we will be posting more information about these tours as we get closer to the event! 
The list of tour sites and presenting companies keeps growing! Realize the power of embracing disruption, from cutting-edge technology, the benefits of diverse and inclusive thinking, a desire for purpose and sustainability, as well as a bigger, enterprise-wide picture.
Register today and save your seat at the upcoming conference in Dallas this October. Surround yourself with industry experts and learn how today's disruptions can empower your business.