LeanDNA Named a 2021 Excellence in Customer Service Award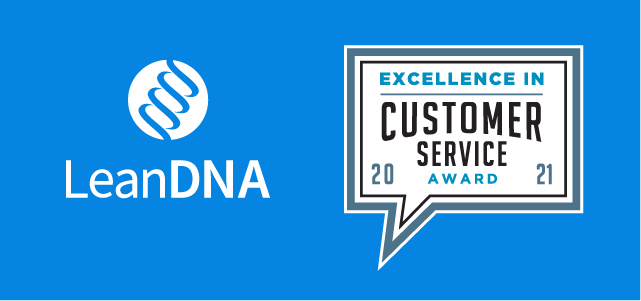 Customer Success Teams Recognized for Providing Continuous Value to Help Manufacturers Fill the Factory Management Technology Gap
AUSTIN, Texas – April 20, 2021 – LeanDNA, the only provider of factory-focused inventory optimization solutions, announced today that they have been recognized as a 2021 Excellence in Customer Service Award winner in the Technology of the Year category presented by Business Intelligence Group, and picked up by Yahoo news.
The annual Customer Service Awards honor those who are helping companies better communicate with their customers to provide a differentiated level of customer service. LeanDNA – which provides a factory-focused inventory optimization platform to help its customers fill the factory management technology gap – stood out because of its dedicated customer success teams, who represent an extension of the supply chain teams they serve to provide continuous value and best practices to leading manufacturers.
"At LeanDNA, our ultimate goal is to help our customers drive results," said Daniel Taylor, Senior Director of Customer Success and Sales Engineering. "To ensure our users utilize the technology to its full ability, we offer top-of-the-line customer support and work closely with supply chain and factory management teams to really understand their pain points and needs. Our AI-driven SaaS platform provides the visibility and data trust needed to make confident daily decisions while our customer success team provides additional knowledge, insights, and best practices, ensuring our customers feel supported and successful."
The Excellence Customer Service Award is yet another addition to the running list of recognitions LeanDNA has already received this year. LeanDNA ranked No. 57 on the Inc. 5000 Series: Texas list of fastest-growing private companies, and was recognized as a Best Places to Work by Built in Austin. LeanDNA was also awarded Supply Chain Management Review's NextGen Supply Chain Analytics Award for driving the industry forward with actionable analytics and prescriptive workflows. Additionally, CEO Richard Lebovitz won the Supply and Demand Chain Executive 2021 Pro-to-Know award for his commitment to equipping supply chain professionals and procurement teams with the right tools to make their jobs easier.
"Our team is extremely dedicated to ensuring our customers are exceeding their goals and continuously improving efficiencies in their operation," said Richard Lebovitz, CEO of LeanDNA. "We're truly honored that our customer success teams' hard work and daily commitment to our customers has been recognized with this year's Excellence in Customer Service Award."
Complete results of Business Intelligence Group's 2021 Excellence in Customer Service Awards can be found at www.bintelligence.com/. To learn more about LeanDNA, visit www.leandna.com.
---
About LeanDNA
LeanDNA is the only factory-centric, execution-focused analytics solution to inventory optimization. This factory-first solution empowers supply chain professionals to dramatically reduce excess inventory, deliver on time, and establish operational command across their organizations, delighting customers, and unlocking new business growth. LeanDNA customers achieve an average 14 percent inventory reduction, 32 percent shortage reduction, and 18 percent improvement in on-time delivery. For more information about the Austin, Texas-based company, visit www.leandna.com.
About Business Intelligence Group www.bintelligence.com
The Business Intelligence Group was founded with the mission of recognizing true talent and superior performance in the business world. Unlike other industry award programs, these programs are judged by business executives having experience and knowledge. The organization's proprietary and unique scoring system selectively measures performance across multiple business domains and then rewards those companies whose achievements stand above those of their peers.
Media contact
Abigail Holmes
Corporate Ink for LeanDNA
617.969.9192