Paul Aram of Ingersoll Rand: Successful Lean Supply Chain Management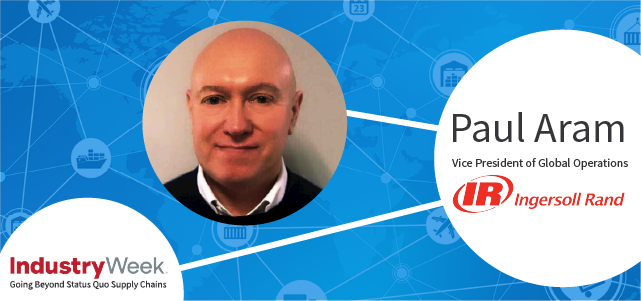 COVID-19 disrupted lean supply chain management processes on a global scale, with unpredictable customer demand and headline-making critical shortages. On top of that, unexpected disruptions like the Suez Canal exposed the need for a more resilient supply chain. In 2021, manufacturers have been forced to take a hard look at their inventory management best practices and workflows as they try to weather the Perfect Storm. So, how can manufacturers remain successful and competitive through such instability?
Industry Experts Share the Secrets to Lean Supply Chain Management
In the April 2021 IndustryWeek webinar titled, "Going Beyond 'Status Quo' Supply Chains," Ingersoll Rand's Paul Aram, LeanDNA CEO Richard Lebovitz, and industry analyst Bob Ferrari, shared their thoughts on the next big thing in execution-based inventory management methods.
Meet Paul Aram, the Vice President of Global Operations for Ingersoll Rand
As someone who has been in Operations and Supply Chain for his entire career, Paul is committed to optimizing operations and supply chain to give Ingersoll Rand a competitive advantage through service differentiation.
Before COVID-19 complicated global manufacturing operations, Ingersoll Rand was making substantial changes to their business and inventory management solutions. But even with improvements in place and underway, they were still implored to take significant action when supply and demand suddenly pivoted.
For Ingersoll Rand, demand accelerated rapidly during the pandemic. As Paul puts it, they have a "really big demand and capacity imbalance that [they're] trying to work through." They planned for a 10% demand increase above last year, but as of April 2021, they are running 25% above planned demand for the year. "That's causing a lot of problems with our suppliers if they haven't quite matched their capacity to match the increased demand," says Aram.
Ingersoll Rand's commitment to change and improvement
To combat this fluctuation and instability, Ingersoll Rand did some soul searching and began making substantial company-wide changes to create a more resilient supply chain and better their internal operations. The majority of their changes focused on gaining better visibility into the right data, automating processes, and standardizing work throughout the business with LeanDNA.
The Lean-hybrid model was key
The "status quo" of manufacturing, relying heavily on spreadsheets and other manual processes, results in inaccurate data, slow reaction times, and an overwhelming lack of visibility.
The Lean-hybrid model strives to seamlessly fuse the best of lean thinking with modern MRP management. This means balancing plans and visibility for both made-to-stock and made-to-order inventory.
For a more detailed look at the benefits of this approach and to hear further insights from Paul Aram, Richard Lebovitz, and Bob Ferrari, read "The Emerging Fix For A Broken Supply Chain: A Lean-Hybrid Approach to Inventory Management."
Harnessing the power of automation
Ingersoll Rand focused on automating processes in both the demand coming in and the way the demand is executed with the suppliers. With this in mind, they were specifically focused first on getting timely, accurate data.
"Ingersoll Rand used to rely on looking at historical data to try and estimate what was going to happen in the future," says Paul, "With the volatility that we've seen recently, that's not going to work." Instead of using historical data to plan for the future, they wanted to harness the power of predictive analytics.
Total visibility into accurate and timely data is crucial for better business operations. According to Paul, if those in the planning and purchasing department of a factory are "sitting there looking at spreadsheets, there is normally something wrong." Paul sought to take teams out of the spreadsheets and manual processes, because they're more prone to human error and quickly become outdated before anyone can take action on the information.
"Spreadsheets and manual processes make operations far too manual and laborious, and they start to get a disconnect between what the people are doing and what's actually happening on the shop floor."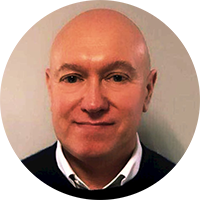 Paul Aram
Vice President of Global Operations, Ingersoll Rand
But manufacturers have to be careful: Using technology to automate and improve bad processes or using mistrusted data can quickly go awry, motivating teams to resort back to the old manual methods due to a lack of knowledge of how the systems work, how to utilize them effectively, or if they can trust the recommendations in them.
Better insights into their real-time data and predictive analytics helped bolster their other internal goal of improved workflows and processes. "We really need to be much, much smarter in the way that we design our processes to make the way that we do things much quicker and much more nimble, and much more efficient so that our teams are working for more to exceptions and doing the right things rather than doing non-value-added routine work." For Paul, "the old processes won't work."
How does LeanDNA help Ingersoll Rand drive successful lean Supply chain management?
Ingersoll Rand already had a handful of effective ERP systems in place across multiple factory sites, and Aram says that "one of the advantages of LeanDNA is that it can be easily connected to all of them." By connecting all of the ERP systems already in place, LeanDNA creates a central hub of inventory information that is easy to access and understand.
Once LeanDNA was deployed, it was easy to configure the software to meet the lean-hybrid model and complement the specific needs of each particular site, as well as the unique problems they experience. The visibility revealed that the site leaders at many of [their] facilities didn't really know what [other] groups were doing. "One of the big advantages of LeanDNA," Paul says, "Is it gives these really good dashboards, which could be viewed by site leaders" and other individuals throughout the company simultaneously from different sites. That simply wasn't feasible before they implemented LeanDNA. According to Paul, "It's been a relatively easy implementation and one that's given us very good results."
LeanDNA helped Ingersoll Rand gain cross-site visibility into their data, displaying real-time information in an accessible way across the enterprise. It also gave them the ability to correct some of the MRP parameters that may have been set up incorrectly. With LeanDNA in place, inaccurate or suspicious data rises to the top for inspection and correction. Despite the unique supply chain challenges of COVID-19, Ingersoll Rand kept revenue use within 5-10% of their budget, with profits actually slightly higher than originally forecasted.
Since the implementation of LeanDNA, Ingersoll Rand has seen "a dramatic improvement in the number of shortages we have and the number of MRP messages that we have. And, that's really given us the ability to be able to consequently improve, not just our on-time delivery and imagery, but our communications to our customers and that accuracy of our communications system." As previously mentioned, shortages have put supply chains in the headlines this year, so being able to dramatically decrease them is a huge win.
Paul Aram's Takeaway
Aram's advice to companies looking to make an effective transformation of their inventory management methods is to invest in the right technology; one that will aid in putting the lean-hybrid model to the test. And for Aram and Ingersoll Rand, that technology was LeanDNA.
Want to see how LeanDNA can help your enterprise prevent shortages, reduce excess inventory, and maintain customers with on-time delivery?