Manufacturing Supply Chain Trends to Look for in 2023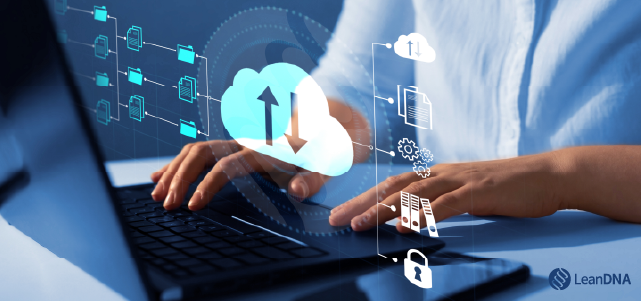 Manufacturing Supply Chain Solutions for Inventory Management Optimization
Siloed data is wreaking havoc in the global supply chain. Without standardized workflows and centralized data, supply chain manufacturing organizations are having difficulty finding, reporting, and executing information. Isolated supply chain teams are making decisions based on outdated, static data which is not only costly for modern manufacturers, but is causing barriers in reporting, prioritization, and communication. With today's complex, global supply chains –organizations need smart factory solutions to avoid costly data silos.
For many manufacturers, this year's focus is to optimize their operations and claim their space in the global supply chain. As the global supply chain becomes increasingly complex, the methods for accomplishing these goals are rapidly changing and evolving with the times. So what are the top trends for supply chain manufacturers in the coming year?
Supply Chain Manufacturing Digital Transformation
Traditional solutions for supply chain management are too manual and too static for an ever-changing landscape. Even though many manufacturers have moved beyond pen-and-paper methods to digital solutions like Excel, these solutions still do not fully encompass their needs. One of the main trends of 2023 is further digital transformation, adopting solutions that better fit individual business needs and leading manufacturers toward their supply chain goals.
What are some of the transformations being done in the digital space? Two major ones are the shift toward cloud solutions and automated intelligence (AI).
Inventory Optimization Cloud-Based Solutions
No more losing all of your precious inventory data to a broken hard drive. No need to download each individual report to send static data across teams. Cloud solutions solve the problem of localization by making data available across organizations in a real-time, accessible view. This can apply to tools across different teams, from HR to procurement, these solutions not only help unite individual teams but create a single source of truth across teams.
With cloud solutions, modern supply chain manufacturers can utilize software-as-a-service (SaaS) models to build agile, scalable strategies. If manufacturing leaders choose a secure and reliable provider that meets the needs of their particular organization and teams, the benefits they will realize are well worth the cost of implementing a new solution.
Automation through Machine Learning and Advanced Analytics
The trend of using automation and AI to minimize human inputs has been increasing in popularity over the past few years. Automation is utilized to reduce human error or remove repetitive, manual tasks from an employee's workload. AI, or artificial intelligence, can actually "learn," and is designed to mimic human intelligence to help make more complex decisions. Both automation and AI are at the forefront of innovation in the supply chain and are becoming increasingly necessary for modern manufacturers to thrive in the global supply chain.
Enhanced Full-Scope Visibility
The ability to track the entirety of the supply chain for a given product is becoming increasingly necessary in today's complex operations. End-to-end transparency helps manufacturing leaders and their teams understand the best way to organize their operations, including optimal inventory levels and aiding in on-time delivery.
This visibility should extend beyond teams in the organization to consumers of the product or other parties that have a stake in the well-being of the organization. Thankfully, due to the digital transformation that many organizations are undergoing, total visibility should not be a huge undertaking but rather a benefit that is realized as the company matures in its use of these new technologies.
Demand for Highly Customized Products
Particularly as the market for a particular product grows, consumers expect (and demand) higher levels of customization. While customization ranges all the way from a wholly unique product to simply offering a range of colors, the manufacturing industry is moving toward increasing labels of customization.
In addition to the customization of products, this trend includes the customization of business processes. Customizing the actual machinery used to get the most efficient manufacturing floor or softwares that you use to get the best procurement plans are just some ways that supply chain manufacturers are creating the unique business processes that shape their operations.
Shortage and Supplier Risk Management
In the world of the supply chain, no one ever truly knows what is coming next. For example, a global pandemic suspends operations for an undetermined set of time. As savvy manufacturers enter 2023, it is time to start managing risk in a way that sets their businesses up to succeed.
The goal is to build the most resilient supply chain possible. For example, this means looking at decisions such as where you source your materials from. Are we buying from a reliable supplier? Are we sourcing from an area that has strict shipping restrictions? Should we be getting our materials from here or is it time to look for alternative options? This is just one example of many areas of business operations where manufacturing leaders can mitigate risk and help their business thrive.
As we enter the year 2023, it is essential to remember these trends, and as the supply chain space evolves, as should savvy manufacturers.
Want to maximize supply chain manufacturing efficiency and rightsize inventory?
LeanDNA customers reduce inventory by over 6% in the first three months and improve their on-time customer delivery performance to above 95%. The LeanDNA solution helps supply chain manufacturers across the globe not only get total visibility of their data but prioritize actions so that manufacturing teams can make smart business decisions with ease.
Proactive supply chain management is a trending topic. 
Labor shortages are on the rise due to the manufacturing skills gap. With shortages combined with hiring freezes across the country, the manufacturing industry is getting hit the hardest. How can organizations resolve their labor shortage issues?
Learn how to stay competitive despite labor shortages 
The severity of supply chain disruptions continues to create problems for manufacturers. 
Due to these ongoing challenges, manufacturers have to pivot their strategies and adapt to the new climate. Check out the 2022 Gartner supply chain symposium for key insights into the shortage economy and how to use emerging supply chain technology to optimize operations.