This actionable intelligence blog is the 3rd in a series outlining the three focus areas for optimal factory operations management. Learn more about gaining total visibility or putting standard role-based workflows in place.
In the quest to transform your factory into a strategic force for inventory reduction, shortage prevention, and operational command, the final layer is actionable intelligence or actionable information.
Here's what we mean: Actionable intelligence automatically transforms data into actions for your team. It's the elimination of manual analysis that takes the guesswork at your top priorities. It's a smart (read: prescriptive, predictive) tool to automate and support daily decision-making.
Your teams are wasting their time performing manual work. This layer empowers smart, reliable, and value-adding decision-making while removing unnecessary manual data analysis.
Actionable intelligence sits on top of your pre-existing systems—your ERP system, your demand planning tools, MES—to make sense of your sea(s) of data. It should also:
Surface up the top actions to help augment those standard processes that you've established

Automate data analysis to expedite effective decision-making, so you get the most bang for your buck on the time spent working a problem

Empower your best data analysts and front line teams to focus on the top things that will help you advance your strategic objectives and continuously improve
Collectively, manufacturers are learning what actionable information could mean for their organization, but the challenges to implementing this are uniform across industries and businesses: A lack of trust in AI and automation, and difficulty adopting new technology that feels overwhelming or potentially job-threatening.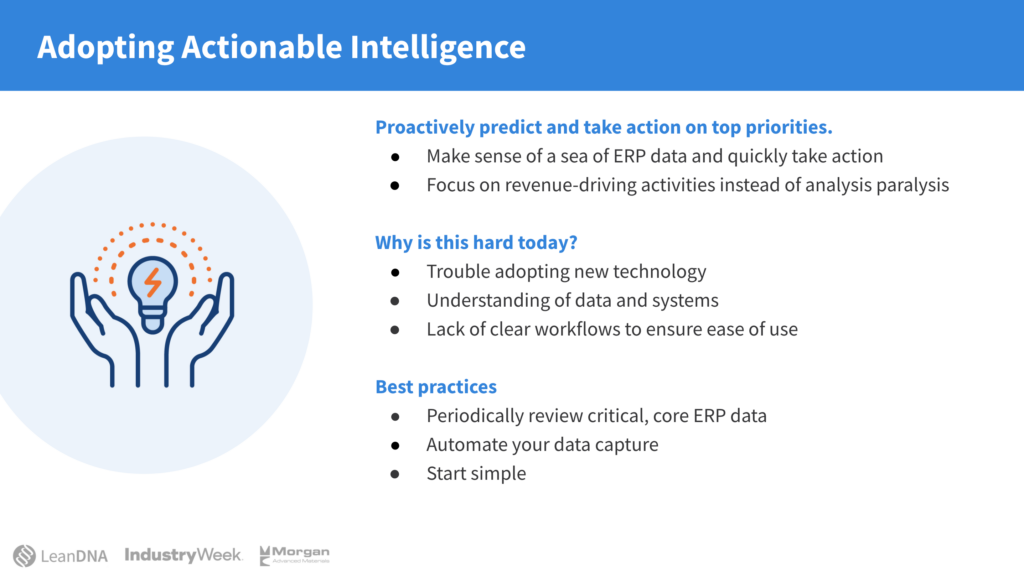 Here are some best practices you can use to overcome these challenges. 
1. Make it easy and elegant. It's important that tools are simple to use with a friendly user-interface. Otherwise, you're asking your teams to move from one new bulky process to a different bulky process. Since change management is the biggest challenge, don't let it be in vain: Make sure the solution will really make their daily lives easier.
2. Periodically sanitize core ERP and relevant data. Involve key team members in the process of periodically checking on your core data so they understand what impact the data elements have on the business, like what each order policy means, why we set them, and why it's important. Also, make it easy to do this through tools and technology. This helps build trust in the systems and data that you already have in place—the data that's already driving your business.
3. Automate analysis first. This is key. Whatever you do, try to automate as much of the analysis as you can to allow your teams to focus on the actions and improvements—not on building and manipulating reports. It will take time to build trust, so when you automate, make sure you're always showing them why certain things are surfacing. 
4. Start simple. We've said this for every must-have so far, because it's important to reiterate at every step. Focus on specific and highly impactful sets of data to allow people to gain familiarity with the tool and build trust early in its usage. And then expand.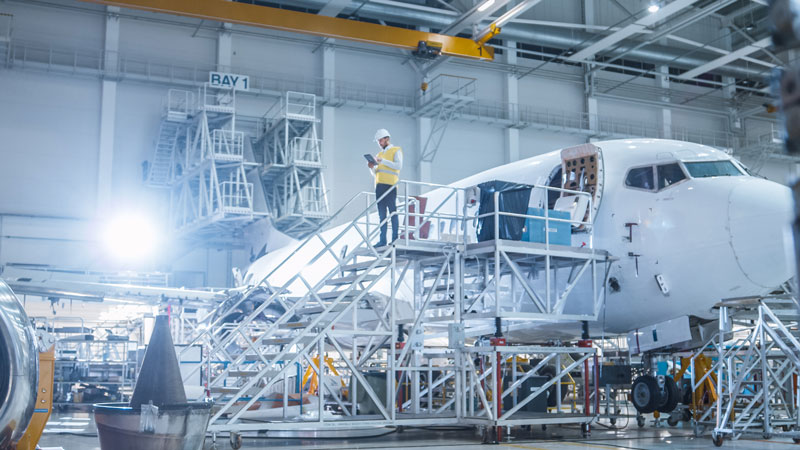 AN EXAMPLE FROM A GLOBAL AEROSPACE MANUFACTURER
 By nature of their business, aerospace manufacturers often go through a lot of mergers and acquisitions, bringing on multiple sites and their subsequent ERP systems. Recently, we worked with a leadership team that had a clear mandate to reduce inventory but didn't have consistent metric definitions across their newly-absorbed ERPs. So they started simple. 
Using LeanDNA's actionable intelligence to translate their disparate data into a single model, they had clear data sets to take action from. From there, they prioritized inventory reduction actions with the simplified view, while also flagging data issues causing false alerts—incorrect or past due demand, old PO records, incorrect lead times, missing item master data, you name it. The prioritized actions allowed teams to focus on a few data sets every day, focus on the standard workflow, trust the outputs of the systems, and really see results happen quickly. From there, adoption increased and the results got even better.
Actionable information transcends every need in factory management and optimized inventory decisions: With automated, prescriptive actions to take, teams can make inventory decisions based on monetary value, see and take action on the most critical shortage risks, and save cash for the organization.
Looking for the full story? Check out our webinar with IndustryWeek about how the factory is key to manufacturing survival in 2021. Or, discover AI-based inventory management to learn more about how LeanDNA empowers global manufacturers with actionable insights.