LeanDNA Ranks Among Highest-Scoring Businesses on the Inc. Best Workplaces 2023 List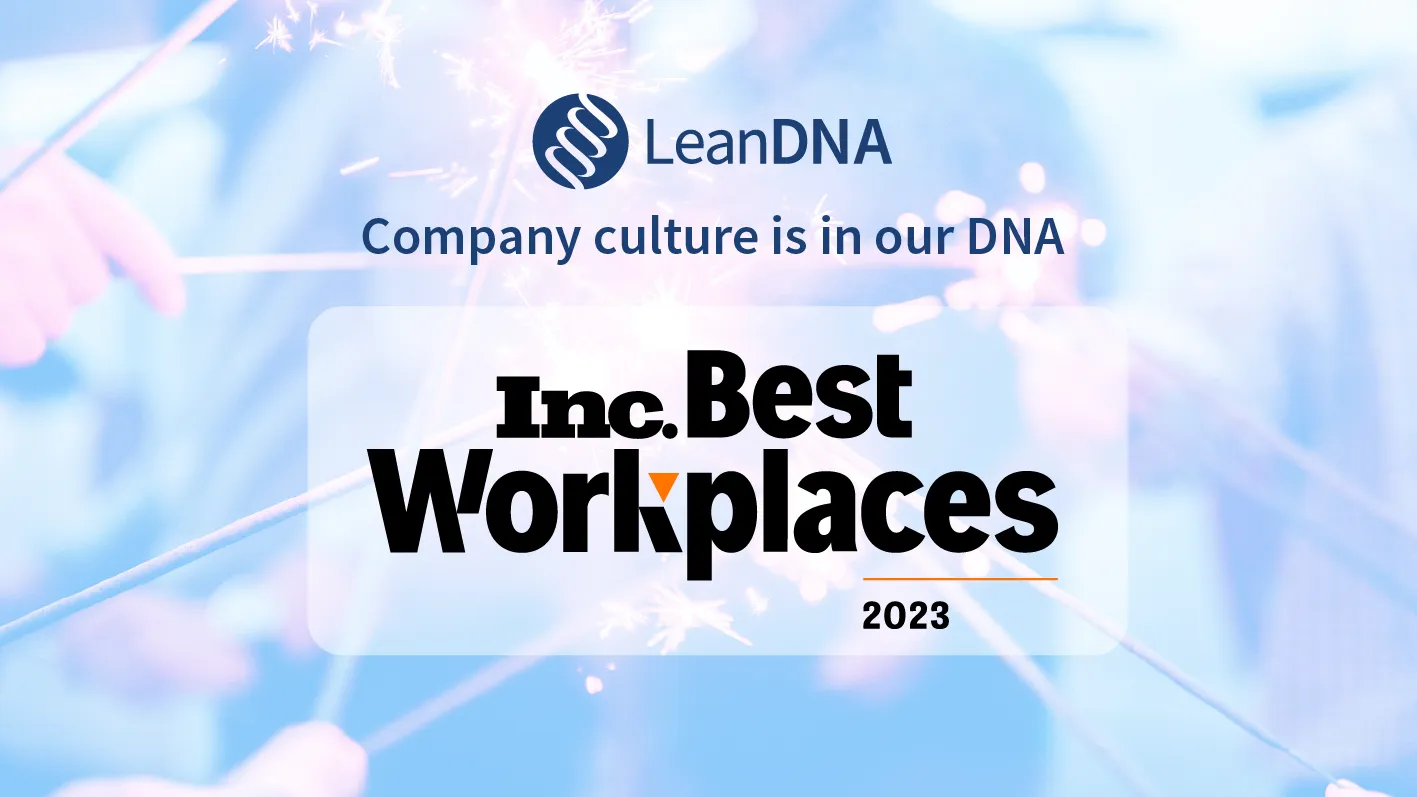 Manufacturing technology "game-changer", LeanDNA, recognized as Inc. Best Workplaces 2023 
AUSTIN, Texas – May 9, 2023 – LeanDNA, a leading supply chain technology platform focused on solving the supply chain execution gap, has been named to Inc. magazine's annual Best Workplaces list. Featured in the May/June 2023 issue, and prominently featured on Inc.com, the list is the result of comprehensive measurement of American companies that have excelled in creating exceptional workplaces and company culture, whether operating in a physical or virtual facility.
After collecting data from thousands of submissions, Inc. selected 591 honorees this year. Each company that was nominated took part in an employee survey, which included topics such as management effectiveness, perks, fostering employee growth, and overall company culture. The organization's benefits were also audited to determine overall score and ranking.
"This award is a true testament to our people and the culture we have created at LeanDNA,"  said founder and CEO Richard Lebovitz. "I'm so honored to work with colleagues who are committed, engaged, and truly care about each other and our customers. The past few years have been challenging for every company, and I'm especially proud that we have maintained a positive and high-performance culture."
LeanDNA empowers supply chain professionals to reach new heights by automating workflows to make decisions faster and easier to drive results, operate more efficiently, maximize revenue, and capitalize on new opportunities. Behind every company achievement is a dedicated team making it happen. From automotive and aerospace to industrial and medical, the LeanDNA platform helps companies all over the globe optimize inventory in a world filled with supply chain disruptions.
"It's exciting for everyone at LeanDNA to be working in an industry that has such a critical impact on people's day-to-day lives," said Lebovitz. "We are all inspired to work together and offer a solution to a real-world problem that's been embraced so enthusiastically by customers and partners around the world."
In 2023, LeanDNA was named one of the Inc. 5000 Fastest-Growing Private Companies in America, one of The Americas' Fastest-Growing Companies by The Financial Times, as well as a BuiltIn Austin Best Place to Work for three consecutive years. In addition,  CEO Richard Lebovitz was named a "Pro to Know" by Supply & Demand Chain Executive magazine. The Data Breakthrough Awards recently named LeanDNA "Data Solution of the Year – Industrial" and Johnson Controls and LeanDNA are finalists for a Manufacturing Leadership Award. For more information about previous awards visit: https://www.leandna.com/supply-chain-awards/
"Being named to Best Workplaces is an honor that only a small fraction of companies have been able to claim," said Inc. editor-in-chief Scott Omelianuk. "Proving to the world that you're a magnet for talent and have a culture that keeps teams engaged, productive, and proud to come to work is a truly remarkable achievement."
To learn more about LeanDNA career opportunities, visit https://www.leandna.com/join-our-team/.
About LeanDNA 
LeanDNA is a leading inventory optimization and execution platform that is solving the execution gap in the supply chain. This cloud-based platform synchronizes execution across the supply chain, empowering manufacturers to prioritize and collaborate to resolve critical material shortages and excesses. With LeanDNA, manufacturers in industries that include aerospace, industrial, automotive, and medical know they will get the right part in the right place at the right time. Learn more at leandna.com.
Contact (For Media Only):
Bart Holzband
Classic Bart PR & Communications
jodi@classicbart.com