LeanDNA Named a 2022 Best Place to Work by BuiltIn Austin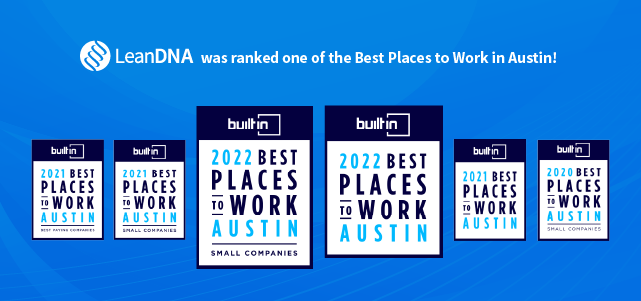 02/04/2022
For the third year in a row, LeanDNA has been recognized as one of Austin's "Best Places to Work" by BuiltIn Austin, the platform that revolutionizes tech recruitment.
These annual awards include companies of all sizes, from startups to large enterprises, across America's eight largest tech markets. Winners for Best Places to Work are determined based on an algorithm, using company data about compensation, benefits, and cultural programs. Last year, LeanDNA was named one of 2021's Best Small Companies as well as one of the Best Overall Places to Work. This year we received the same honor, ranking #17 for the Best Small Companies and #93 in the Best Overall.
LeanDNA prides itself on creating an empowering work environment where employees can thrive. Our four core values, Fire in the Belly, One Team, Unwavering Humility, and Relentless Curiosity guide all of the work we do and our approach to maintaining a positive and innovative work culture.
"Once again we're thrilled to be recognized for the collaborative culture and strong benefits we offer at LeanDNA, especially as we navigate through this challenging time," says Jeanmarie Rust, Head of People Operations and Recruiting at LeanDNA.
"We've continued to build on our core set of values and our employees and managers make conscious and informed decisions about how we allocate our time and resources as teams and employees. We focus heavily on employee engagement, talent management, and creating meaningful work. We are committed to our strategic roadmap and spend significant time each week delivering OKRs by taking ownership in the part we play for our success, failures, and learning. Every decision we make—hiring new employees, workplace perks, employee shout outs, and more—aligns back to those key results. We've been fortunate to double our growth and expand our team to EMEA and APAC in 2021. We are excited to continue our growth and amazing culture through 2022."
With the ongoing COVID-19 pandemic leaving a lasting impact on both our personal and work lives, we are proud to offer flexible remote work offerings to attract the industry's top talent, unlimited PTO to give our team the time they need, and a central hub in Austin to provide in-person camaraderie and collaboration.
"We just celebrated the most successful quarter in LeanDNA's history despite how challenging the last year has been worldwide," said LeanDNA Founder and CEO, Richard Lebovitz. "All of this success and growth is linked directly to not only our product and great customers, but also our incredible team."
LeanDNA's factory-focused solution is manufacturers' secret weapon to reduce excess inventory, prevent shortages, and maintain customers with on-time delivery. Built from Lean manufacturing practices, we empower teams at the world's top aerospace, industrial, automotive, and medical device manufacturers to make impactful inventory optimization decisions for the factory. The result? Real value for their organization, fast.
We're hiring!
Want to join our innovative team of Leaniacs and empower supply chain teams across the globe? Check out our Careers page for more information on open roles, our award-winning work culture, and employee benefits.