LeanDNA CEO Richard Lebovitz Named Supply and Demand Chain Executive's 2021 Pro to Know of the Year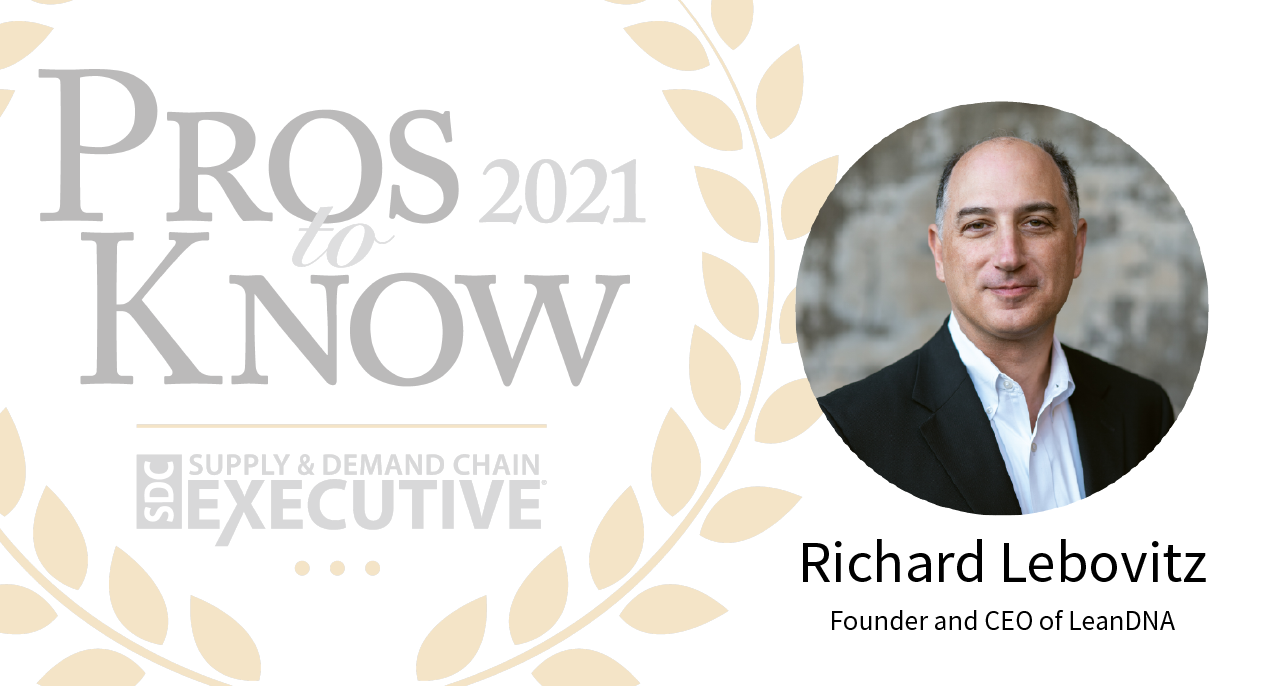 30-year industry veteran recognized for empowering supply chain teams with best practices and technology that drive efficiency and continuous value
AUSTIN, Texas – March 11, 2021 – LeanDNA, the only provider of factory-focused inventory optimization solutions, announced today its Founder and CEO Richard Lebovitz has been named the 2021 Pro to Know of the Year by Supply & Demand Chain Executive. The accolade recognizes Lebovitz for his commitment to aiding supply chain professionals and procurement teams with tools that make their jobs easier and enable them to create new value and efficiencies within their organizations.
Lebovitz works closely with manufacturers around the world to turn factories and the leaders tasked with optimizing inventory into a strategic force. He develops innovative tools to empower collaboration, visibility, actionability, and standardized work processes across inventory management—a technology gap he refers to as the forgotten link of the supply chain. The award celebrates Lebovitz's accomplishments in helping supply chain clients and the community at large succeed, especially amidst an increasingly complex industry landscape.
"Supply chains are now expected to be strategic, agile, and resilient, but the teams managing and optimizing inventory have long been unsupported by new technology," said Richard Lebovitz, LeanDNA's Founder and CEO. "Inventory optimization within the factory is critical for achieving the level of performance needed today. I'm passionate about equipping supply chain teams with the tools and insights they need to remove tedious work from their day-to-day, and make fast, confident, and impactful decisions around inventory. I am honored to be recognized by Supply & Demand Chain Executive for this rewarding work alongside other supply chain innovators."
In 2020, Lebovitz and his team worked with 2,200 buyers and 25,300 suppliers across 17 countries to strategically leverage LeanDNA's technology to reduce excess inventory, prevent costly critical shortages, and free up working capital. Under his leadership, LeanDNA has expanded its software footprint to more than 30 global manufacturers across over 250 global sites. 
"While many companies have struggled to regain their footing as a result of COVID-19, this year's Pros to Know winners stepped up to the plate to deliver innovative solutions and programs in a time of crisis and need. These winners collaborated, optimized, developed, educated, and played a critical role in the survival and success of their company amid a global pandemic," says Marina Mayer, Editor-in-Chief of Supply & Demand Chain Executive and Food Logistics. "I am honored to recognize these individuals and teams and extend my utmost gratitude to everyone in the supply chain industry for their time, efforts, and innovations to keep our nation's supply chains afloat."
Prior to LeanDNA, Lebovitz founded Austin-based Factory Logic, Inc., a leading provider of Lean factory management systems which was acquired by SAP in 2003. Lebovitz serves as a board member for the Association for Manufacturing Excellence and has won the Shingo Prize for Manufacturing Excellence and the NextGen Analytics Provider of the Year award. 
Learn more about Richard Lebovitz and how LeanDNA is empowering supply chain leaders to make impactful inventory optimization decisions for the factory.
---
About LeanDNA
LeanDNA is the only factory-centric, execution-focused analytics solution to inventory optimization. This factory-first solution empowers supply chain professionals to dramatically reduce excess inventory, deliver on time, and establish operational command across their organizations, delighting customers, and unlocking new business growth. LeanDNA customers achieve an average 14 percent inventory reduction, 32 percent shortage reduction, and 18 percent improvement in on-time delivery. For more information about the Austin, Texas-based company, visit www.leandna.com. 
About Supply & Demand Chain Executive
Supply & Demand Chain Executive is the only supply chain publication covering the entire global supply chain, focusing on trucking, warehousing, packaging, procurement, risk management, professional development and more. Go to www.SDCExec.com.