Emerging Technologies for Supply Chain Management in 2023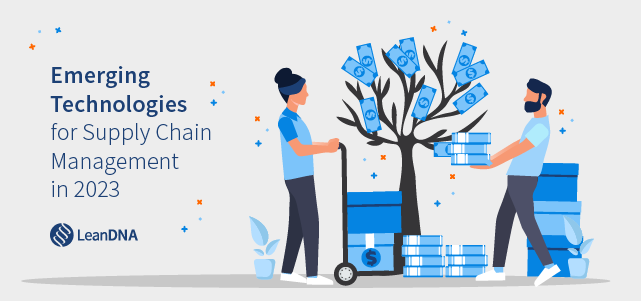 Procurement teams are struggling to quantify the value behind technology investments. However, innovative technology solutions are the answer to preventing the information overload that today's manufacturing employees are facing. It's critical that supply chain teams everywhere start investing in the right supply chain management (scm) technology.
Why do we need supply chain systems and tools?
Advanced solutions to supply chain management are giving savvy manufacturers the competitive edge they need in today's tumultuous market. The ability to automate, enhance total visibility, and optimize inventory is essential for businesses in the global supply chain. Although advanced technologies can be costly, the benefits to procurement and manufacturing teams greatly outweigh this.
But even as supply chain leaders are beginning to realize the benefits of advanced technology solutions, Gartner analysts reported only 17% of procurement teams get the technology they want and need. This lack of critical technology is leading to an information overload, and an increase in "burnt-out" workers. Gartner analysts
To optimize inventory management, procurement leaders need to consider the new technologies that can help them adapt to fluctuations in the global supply chain. 
Why supply chain leaders need to advocate for digital supply chain investments
Out of 88% of manufacturers that have invested in manufacturing, only 5% have seen a return on investment—is this because they are investing in the wrong technology or because they allocating the wrong tools to the wrong teams? Of course, investing in a digital supply chain is a step in the right direction, but a successful supply chain management strategy integrates solutions to fill the gaps for each team.
It is important to identify targeted supply chain management goals to track progress and return on investment. Some of the most common supply chain key performance metrics include:
improving complete and on-time delivery

reducing shortages

minimizing excess inventory

decreasing waste while increasing efficiency
Now you're probably wondering, how can you achieve those goals with unpredictable supply chain disruptions?
Avoid  Supply Chain Disruptions
With an everchanging shortage economy, businesses worldwide have seen how quickly the manufacturing landscape can shift. By participating in real-time supply chain planning, savvy global leaders can avoid supply chain disruptions way before they affect business operations. Real-time and advanced inventory optimization tools can help operationalize your existing supply chain data to proactively plan for future bottlenecks.
Adapt to  Supply Chain Disruptions
The key part to being able to adapt to these disruptions is to build a collaborative supply chain. Manufacturers, suppliers, and distributors must all work together to adjust according to market conditions and challenges which can range from a single delayed shipment all the way to a global pandemic.
By implementing agile and adaptable programs into your supply chain approach,
businesses can easily adjust to disruptions as they occur and curate processes
for continuous improvement.
Absorb  Supply Chain Disruptions
By adopting industry-disrupting technology, supply chain leaders can absorb the effects of these disruptions without damaging the business operations or reputation. While disruptions still occur, the effect on operations is minimized. New automation solutions allow more time for manufacturers to focus on higher valued, more impactful work than those who currently rely solely on their ERP system to gain a competitive edge.
The technology to make your job easier does exist, so why not advocate for it?
Global manufacturers have integrated LeanDNA and have achieved a fast return on investment to maximize the value of systems, sites, and suppliers. Did you know you can digitally transform your supply chain in just 8 weeks?