2022 End-of-Year Review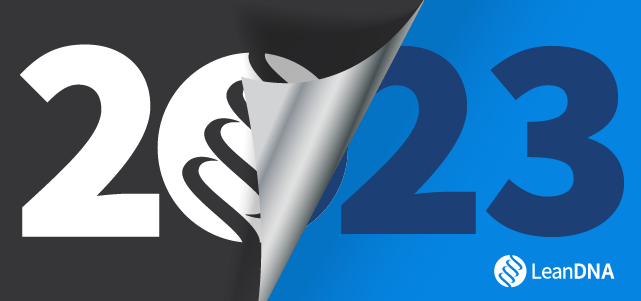 As manufacturing started to rebound in 2022, there were many challenges that had to be addressed across the supply chain and within their organizations. We were excited to see how LeanDNA customers were able to come out on top.
This past year, the LeanDNA team invested a lot of time and energy in product enhancements that bring agility and sustainability to life across supply chain organizations. While we always believed in the impact and potential of automating inventory optimization and execution, our customers have accomplished more in the past 12 months than we could have imagined.
We want to say thank you to all of our customers for your continued partnership and collaboration as we continue to close the execution gap. LeanDNA's success can be directly attributed to the devoted customers that have helped us become one of Inc. 5,000's fastest-growing private companies.
Before we get carried away with all the exciting things to come in the upcoming year, we'd like to celebrate and highlight a few of our customers' 2022 accomplishments.
Customers Found Success in 2022
Over the previous year, leading manufacturers have utilized LeanDNA to reduce their shortages, excess inventory, and production turnaround times despite ongoing supply chain challenges. Below are just a few customers highlights from 2022:
HNI – NextGen End User Award
As a leading manufacturer of business and residential building products, HNI's highly complex manufacturing process is about 95% build-to-order with a high number of SKUs and customizable options. LeanDNA provides comprehensive shortage visibility, allowing HNI to accurately assess, identify, and manage inventory to improve on-time delivery.
"LeanDNA has powered an incredible step forward for HNI, providing us with the ability to pivot through unpredictable times and innovate in the factory when it's been needed most," said Jay Senatra, Director of Supply Chain, HNI. "We now have days or even weeks to solve the problems before they happen versus having to solve the issues after they've occurred. We can get a sense of where the trend is heading and get in front of it."
LeanDNA nominated HNI for the NextGen End User Award which they won at the 2022 NextGen Supply Chain Conference.
"It's a pleasure to recognize supply chain teams like HNI and LeanDNA that are effectively using technology to improve performance dramatically," said Bob Trebilcock, editorial director of Supply Chain Management Review. "This award recognizes the importance of collaboration in driving digital transformation and as a competitive differentiator."
Spirit Aerosystems – Aviation Week
Within six months, one Spirit Aerosystems division reported an $80 million reduction in working capital that could be attributed directly to inventory reduction through the LeanDNA platform.
"LeanDNA's state-of-the-art system that can move parts from suppliers to the factory floor in the most
efficient way possible," – Spirit AeroSystems CEO Tom Gentile says.
Aviation Week recognized Spirit Aerosystems for their resilience during ongoing supply chain challenges.
Johnson Controls – Supplier Connect Symposium
Johnson Controls hosted a symposium with hundreds of their supplier partners to embrace innovation and improve collaboration.
LeanDNA was invited to join and help lead the supplier connect initiative by showing suppliers how they can strengthen their relationship with their customer.
"We are also excited to see many of our LeanDNA champions take on bigger leadership responsibilities across their organization. It would be difficult to mention every name, but the LeanDNA team's biggest sense of pride is when our customer teams get recognized for their success. " – Richard Lebovitz, Chief Executive Officer of LeanDNA
Customers were able to leverage the flexibility, speed, and reliability of LeanDNA to take control and more efficiently manage their supply chains.
While they were building supply chain resilience, we were busy working on the products and features needed to scale their businesses to maximize productivity.
LeanDNA's Commitment and Dedication to Closing the Execution Gap
Thanks to the feedback we received from our customer champions, product feedback sessions (both on-site and virtual), and customer survey responses, we made 52 product enhancements.
We look forward to another year of product innovation and company growth. During 2022, our company grew in size exponentially and we added a seasoned Chief Revenue Officer, Jim Kanir, to our expanding team.
Our mission is to help manufacturers build supply chain resilience by designing technology that identifies inventory optimization and execution opportunities. Due to the continued, unexpected supply chain challenges, our mission has taken on new meaning and scale.
Looking Ahead to 2023
We will continue to make enhancements to LeanDNA's industry-disrupting platform to improve communication, production readiness visibility, and efficiency through automated, streamlined workflows and reports.
In early 2023 LeanDNA will be releasing Clear to Build, a production readiness visibility report for enhanced insight into what manufacturers can and cannot build based on current and incoming inventory. The intuitive Clear to Build Report is updated daily with progress and prioritized actions for planning and procurement teams to keep production on track.
To further improve buyer and supplier collaboration, we will be releasing Buyer and Supplier Workbench capabilities with the ability to communicate back and forth through a single platform that stores updates to easily reference where things left off.
LeanDNA will continue to improve our ERP integration, data implementation, and automation workflows to meet the industry's technology needs.
Cheers to all the new milestones LeanDNA and our partners will accomplish!
Here's to 2023 – a year for all of us to continue to learn, listen, and grow together.
Are you looking to get ahead in 2023?
Contact team@leandna.com to learn how you can implement LeanDNA's industry-disrupting technology in just 8 weeks!