Today's manufacturers in nearly every industry have to grapple with complex supply chain planning challenges brought on not only by the COVID-19 pandemic, but also by an increasingly globalized supply chain, geopolitical issues, growing demand for customization and more. One industry particularly impacted by these challenges is aerospace and defense, due to its global market and discrete manufacturing requirements.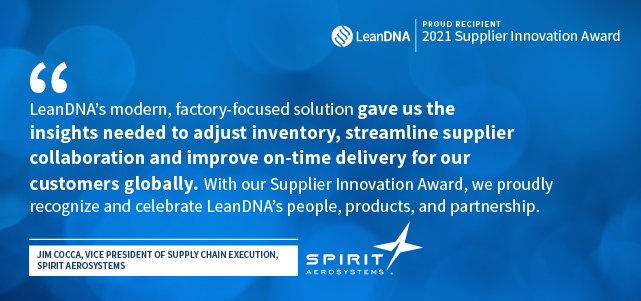 Since 2018, Spirit AeroSystems, one of the world's leading aerospace and defense manufacturers, has relied on LeanDNA's solution to optimize its supply chain and improve business outcomes. The initial engagement began with a goal to reduce excess inventory and free up cash. Together, we not only achieved that, but also recognized a 16 percent decrease in inventory. By adopting LeanDNA's platform, Spirit AeroSystems is now able to:
Gain visibility into real time inventory levels

Standardize workflows created to maximize team efficiency

Automate prioritized inventory actions to guide teams day-to-day and ensure on-time delivery to customers

Give their entire network of buyers, planners and suppliers total visibility and the tools needed to collaborate, make real-time adjustments
Because of the results the organization achieved, Spirit Aerosystems recently recognized LeanDNA with the 2021 Supplier Innovation Award. Jim Cocca, vice president of supply chain execution at Spirit AeroSystems said, "LeanDNA's modern, factory-focused solution gave us the insights needed to adjust inventory, streamline supplier collaboration and improve on-time delivery for our customers globally." To find out more about how Spirit Aerosystems implemented LeanDNA's solution, check out this story.
LeanDNA is proud to work with our aerospace and defense customers, as well as all our other discrete manufacturing customers, to address their supply chain planning issues, ensuring they are equipped with the tools necessary to stay competitive and successful amidst volatile demand and continuous disruptions.
Have questions? Contact us.
Check out our case study with aerospace manufacturer Safran Seats GB to learn how they leveraged LeanDNA to standardize their inventory optimization practices, free up IT resources, and more.