Most, if not all, manufacturers have at least one ERP system in place to house and categorize critical data. But investing and implementing ERP systems are just the first step towards achieving true inventory optimization. While ERP systems are necessary, on their own they lack the prioritization and visibility necessary for manufacturers to stay competitive and successful in today's increasingly complex supply chain. To save both time and money, manufacturers must aim to operate as efficiently as possible. By implementing an additional analytics engine, ERPs can achieve their full potential.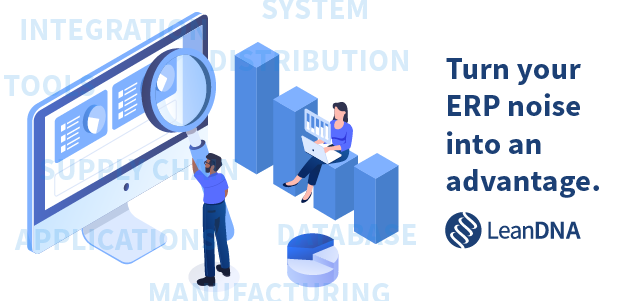 Why are ERP systems important?
ERP systems are critical to manufacturers because they still provide a number of vital benefits. 
They provide valuable data housing and categorization
ERP systems store manufacturing, ordering, and inventory data as well as categorize it to help users efficiently access all the necessary information required to complete their daily tasks. 
ERP systems provide a centralized database for employees to pull from, accessible to virtually all the departments of an organization including accounting, marketing, HR, finance, supply chain, sales, etc. 
They increase productivity
Traditional methods of data reporting tasks are tedious, with data becoming static before the evaluation is even complete. ERP systems automate a lot of these redundant tasks.
ERP systems are made of many applications or modules that can be used in solidarity or together as one unit. This means companies can pick and choose which units are most relevant to them and their business. 
Why is ERP not enough?
While ERP systems do provide a lot of value to manufacturers, on their own they don't allow businesses to reach their full potential. The main pain points include:
Time-consuming manual processes
ERPs usually require at least some manual analysis of data to be done in spreadsheets. This takes up time and results in stale and/or outdated information which typically overwhelms users and can cause employees to lose faith in the data and eat up time that could be used for more strategic tasks. 
Most large companies use multiple ERP systems across different sites, so while the ERP system may improve collaboration at an individual site, cross-site visibility is not achieved. Visibility is also affected by systems that aren't user-friendly making it difficult to locate relevant data. Catherine Plumail found this exact challenge at Ingersoll Rand, with multiple sites using different ERPs with little to no connectivity between them.  
No prioritization of ERP exception messages 
Procurement and factory operations teams get hit with hundreds of messages each week without any indication of which ones are the most critical and financially impactful to the company. Without clear insights into which messages should be prioritized, employees often get caught up in less important tasks and have to manually prioritize the actions themselves, allowing human error to become a factor. 
ERP systems report on the data they're given, without the ability to plan for the future. Other cloud-based additions can provide further analysis, such as aiding in creating a Plan for Every Part, or an ABC/XYZ analysis. They also provide the ability to use past data to look into the future is an invaluable addition to any business. 
To reach full manufacturing potential, companies should be acting on complete, up-to-date data. The manual analysis requirement of ERP systems means that the time it takes to complete the required manual analysis performed in spreadsheets takes up precious time and leaves data to become static and users out of touch.
The Takeaway 
ERP systems on their own aren't enough anymore—using them alone won't solve the challenges facing manufacturers today. However, using an additional tool in tandem with existing ERP systems will drive inventory optimization, financial savings, and overall efficiency. It's time to empower your teams with the tools that will make them the most productive and successful.
To learn more about how your existing tools can be complemented and empowered by additional technology, read our guide 7 Considerations for Better Factory Operations Management.