Total Inventory Visibility and Operational Command
Are you managing millions of dollars of inventory with outdated spreadsheets? 
You can't control what you can't see. LeanDNA seamlessly consolidates, harmonizes, and analyzes disparate inventory and demand data and KPIs across sites and sources. Reduce offline spreadsheets and cumbersome manual analysis with real-time data, out-of-the-box dashboards, and configurable report views.
Gain end-to-end inventory and shortage visibility 

Standardize information and analysis across your business

Surface root causes and data inaccuracies automatically 

Uncover future opportunities to reduce excess and prevent shortages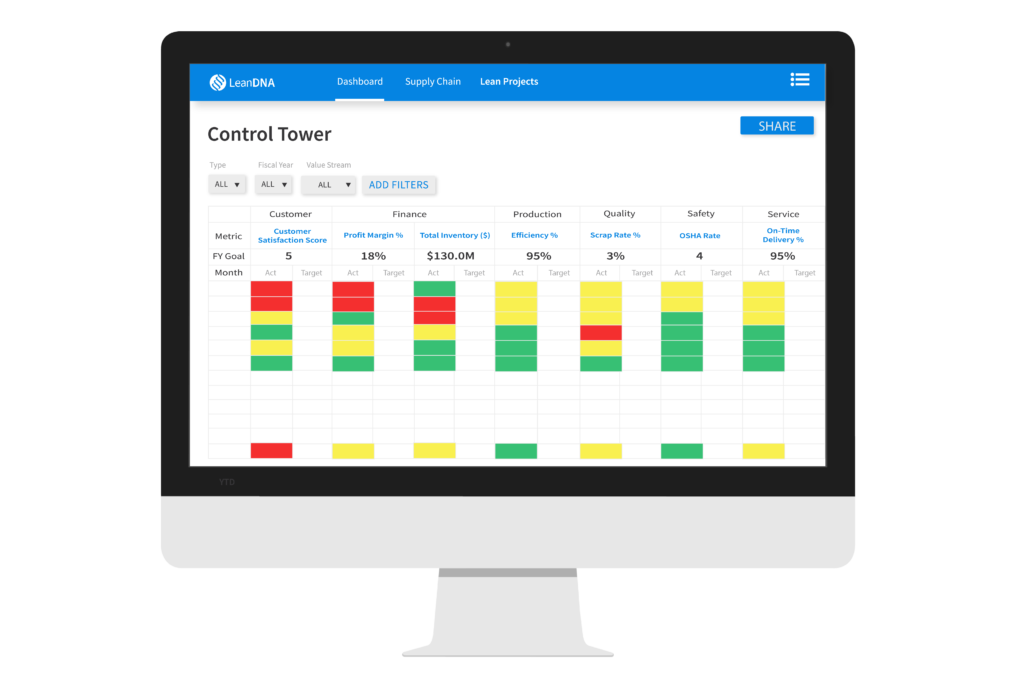 Total inventory visibility and a foundation for agile supply chains
Establish Operational Command
Connect, track, and improve accountability across all of your sites—no matter how many or how far. See actions, collaborate, and prioritize issues for each member of the team.
Empower faster daily decision making 
Up-and-running in just five weeks, teams immediately benefit from secure nightly data syncs to incorporate the latest demand changes and historical actions, ensuring teams quickly feel confident in daily decisions.
Say goodbye to analysis paralysis
Stop wasting time building and analyzing inventory in Excel. Automate analysis so your teams can focus on executing the top priorities to free up working capital.
Get to the root cause, fast
Part-level historical data-logging enables root cause analysis tied to every KPI and recommendation—putting the right context in the hands of your decision makers.
See tomorrow's savings opportunities today
Proactively identify future optimization opportunities and the actions your teams should take to get there. 
More than just a pretty dashboard
AI-driven prescriptive analytics and automation goes beyond BI-caliber visualization.
average number of buyers and suppliers connected through LeanDNA
average inventory reduction after one year
critical shortage reduction after a year
Role-based interactive dashboards
Pre-built metrics for each role, based on industry best practices, are built into out-of-the-box report views and KPI dashboards you can configure to your company's needs. Get a prioritized list of items impacting each metric along with item master data, supply and demand information, root cause analysis, status updates, task owner, comment history, and more. 
Standardized global views and templates
Views and dashboards can be saved and shared with colleagues and teams, creating a single source of truth for real-time collaboration, analysis, and alignment on critical KPIs across the organization.
Data validation and accuracy
Nightly data syncs uncover data inaccuracies fast. Issues, such as incorrect order policy settings, are automatically surfaced and prioritized so they can be promptly addressed. 
Forward-looking inventory optimization opportunities
Proactively monitor and drill down into the Inventory Optimization view to see potential improvement opportunities based on the AI-driven achievable actions LeanDNA prescribes and assigns daily.
The standardized supply chain data model and ERP connector, LeanDNA Connect, works for any ERP system. Plus, utilize one of the 20+ pre-built integrations and data maps for leading ERP systems, including SAP, Infor, Oracle, Microsoft Dynamics, Sage, and many more. 
Robust filters and segmentation 
Robust report views and dashboard filters allow data segmentation by BU, site, product line, buyer, supplier, task owner, and more—so you can slice and dice your dashboards and reports with one click. 
The secret to agile supply chains
Better informed decisions, accurate daily information, and a standard reporting methodology across teams, sites, and systems form the foundation for an agile inventory operation. When teams make faster, data-driven decisions, they can drive more value.   
Read how E-One's team gained inventory visibility and drove a 36 percent shortage reduction after just 7 months.
What other leaders are saying
"Working with LeanDNA is helping us find the challenges in the ERP. The ERP system is quite antiquated, and not supported from a platform perspective. We've manipulated the system over the years, and now it doesn't calculate in the same way you'd expect it to. LeanDNA has given us visibility of our data integrity issues and allows us to go fix them. I'm such an advocate, the system is amazing."
"With LeanDNA, our analysts spend less time writing reports and more time analyzing data and driving results. They're able to dedicate their energy to connecting dots and finding real opportunities for savings and results."
"If you approach the supply chain the right way and introduce new processes well into the four walls of a building, opportunities will unlock. LeanDNA gives me the ability to have intelligent conversations remotely and makes our work less reactive. It gives me time back to focus on other issues and act strategically."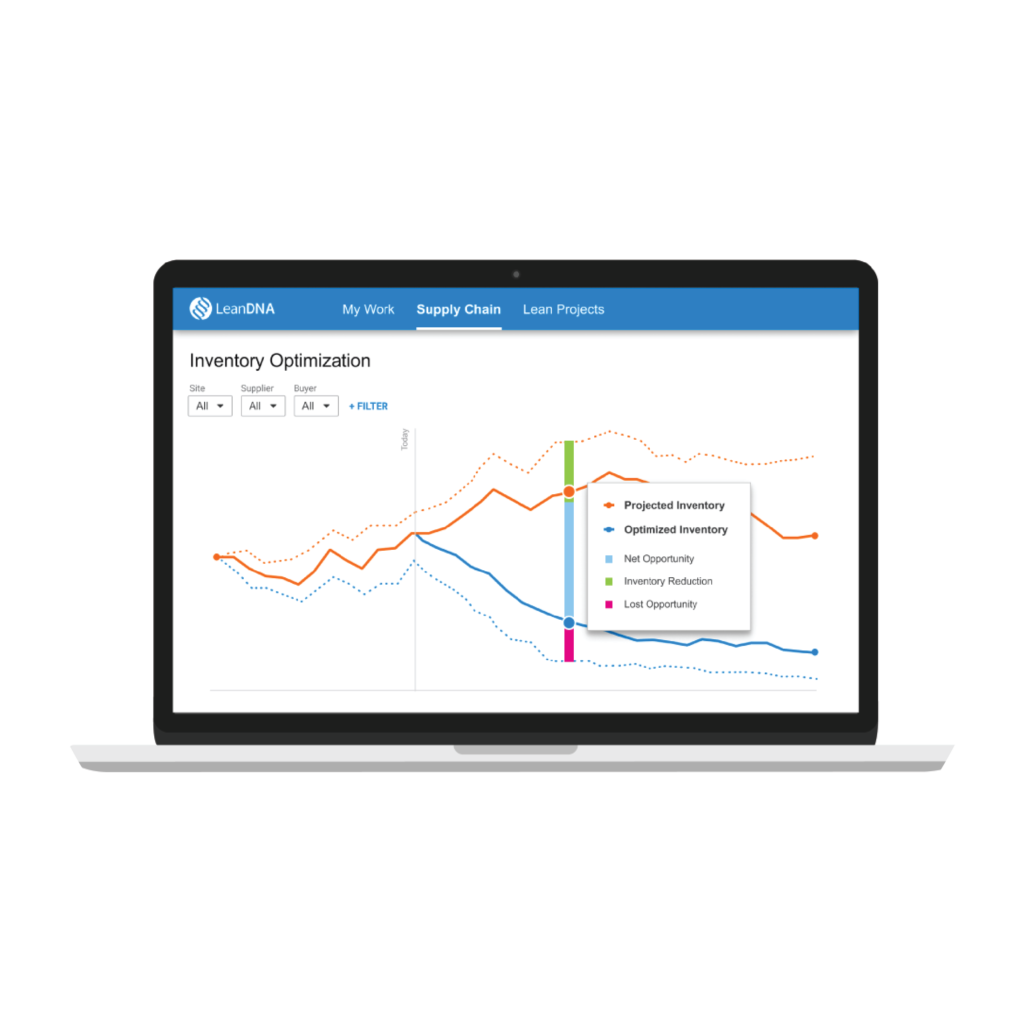 Inventory optimization workflows for every role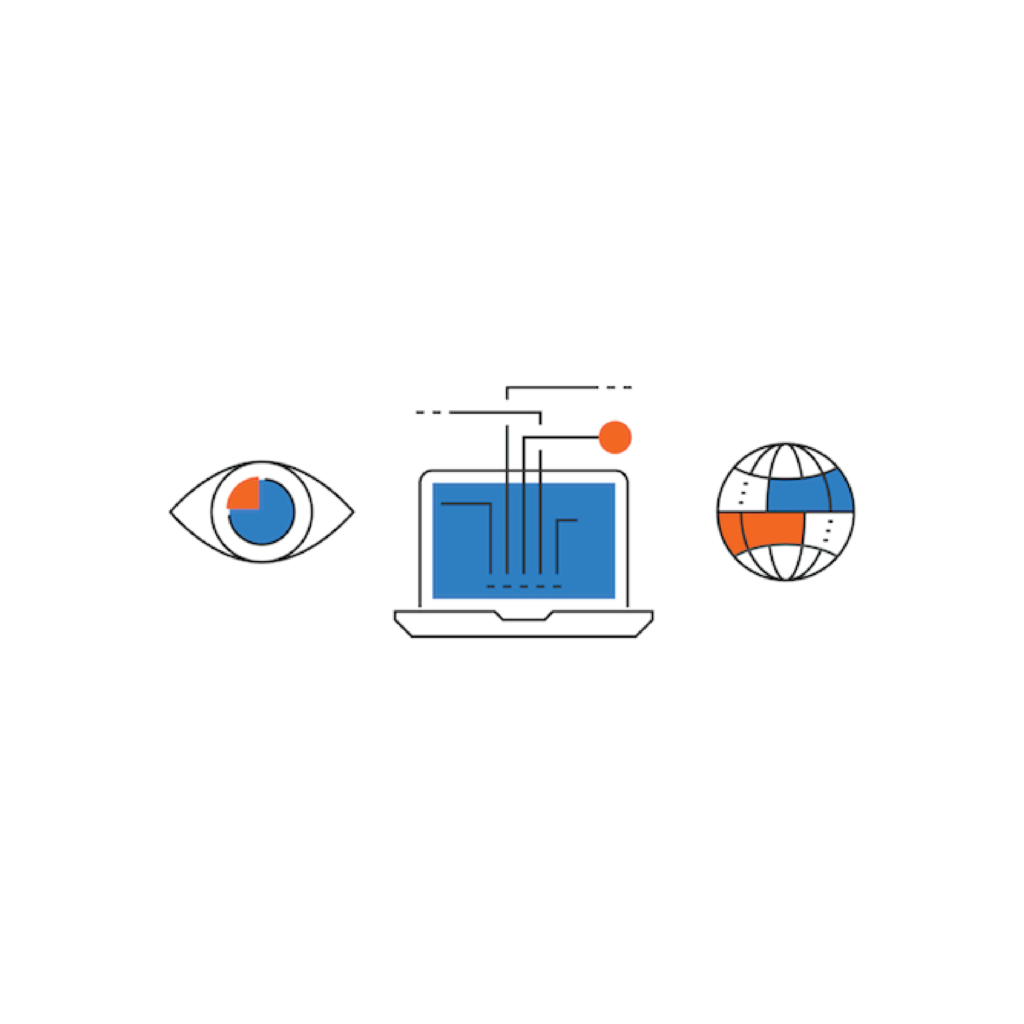 5 Benefits of Improving Cross-Site Visibility in Supply Chain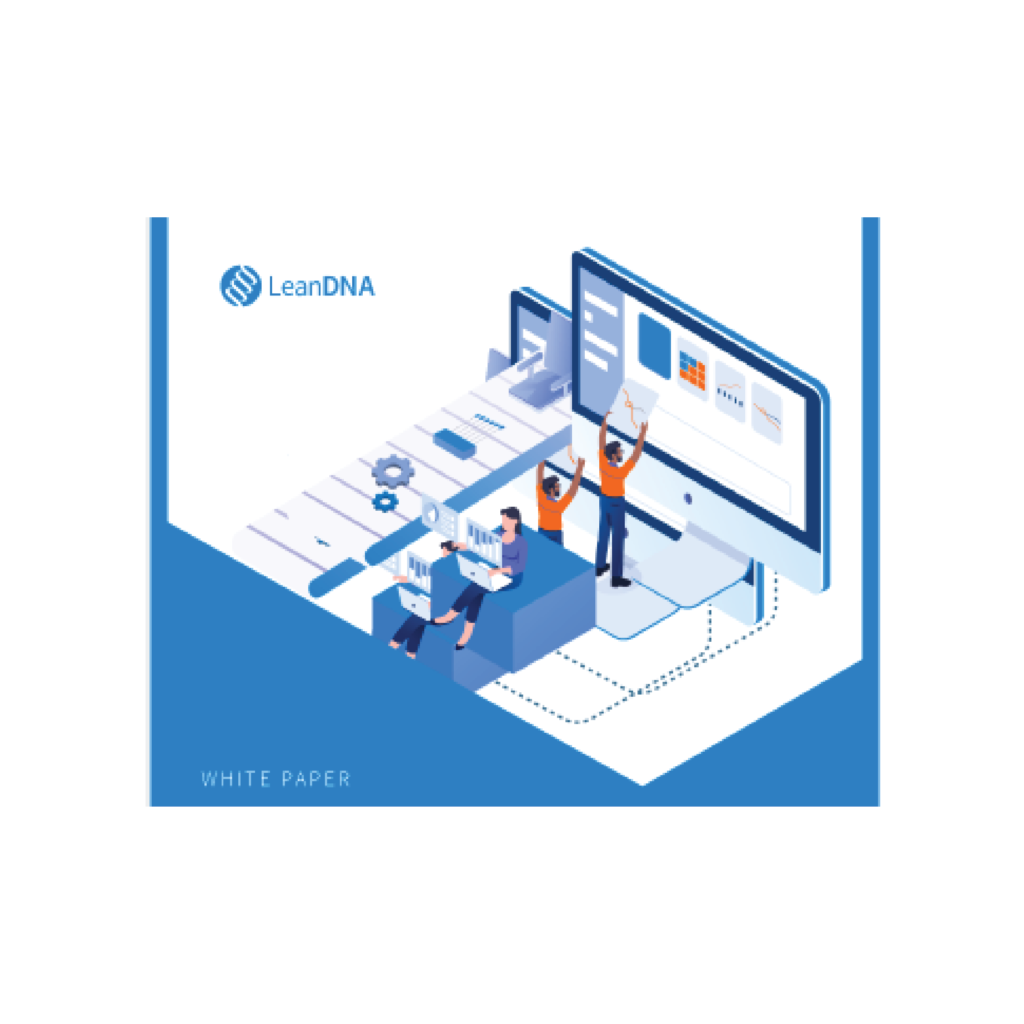 4 Essential Reports for Inventory Optimization