Dynamically-Changing Customer Demands Require Fast and Accurate Decisions
Every area of your supply chain is being touched by global shifts in consumer demand, increased product complexity, and a more complex supply base. But the technology available to supply chain professionals has yet to catch up. Every day, the gap increases between demand volatility and supply chain's ability to react. Executives are unable to determine which manufacturing site drives the biggest opportunities and those that have best practices that should be expanded. Analysts, buyers, and managers struggle to meet on-time delivery supply chain requirements. Everyone works extra hours to make up for outdated tools, and top talent leaves out of frustration. With so many problems to solve, it is difficult to determine the best starting point.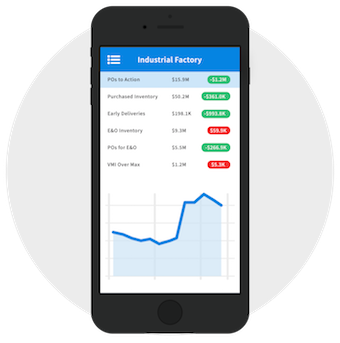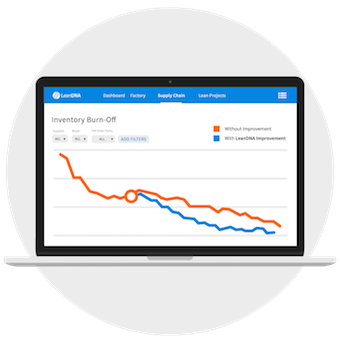 Supply Chain Management Analytics That Provide Prescriptive Decision Support to Complex Supply Chains
LeanDNA's out-of-the-box, purpose-built software solution unifies data, decision-making, and lean project management across multiple factory sites and ERPs. Artificial Intelligence backed prescriptive analytics provide prioritized inventory actions designed to optimize inventory levels. LeanDNA is easy-to-use, built by industry experts, and quick to implement. Supply chain team members at all levels enjoy using LeanDNA. Make smarter, faster, more profitable decisions with LeanDNA. Supply chain leadership starts here.
Predictive & Prescriptive Analytics for Global Supply Chain Leaders

Presents highest-value inventory reduction opportunities

Identifies root causes of disruptions due to inventory issues

Reports are available via one dashboard in real time

Assigns tasks and ensures work is completed properly

Prevents shortages before they occur

Improves supplier performance and on-time customer delivery

Centralizes visibility across disparate ERPs in the network

Integrates with any ERP in a matter of days
LeanDNA customers reduce inventory by 13.5% on average in the first year
Supply Chain Leadership Starts Here
We can be your secret weapon to supply chain transformation
LEARN MORE