Spotlight on Astrid Hussonnois: Women in Supply Chain Award Winner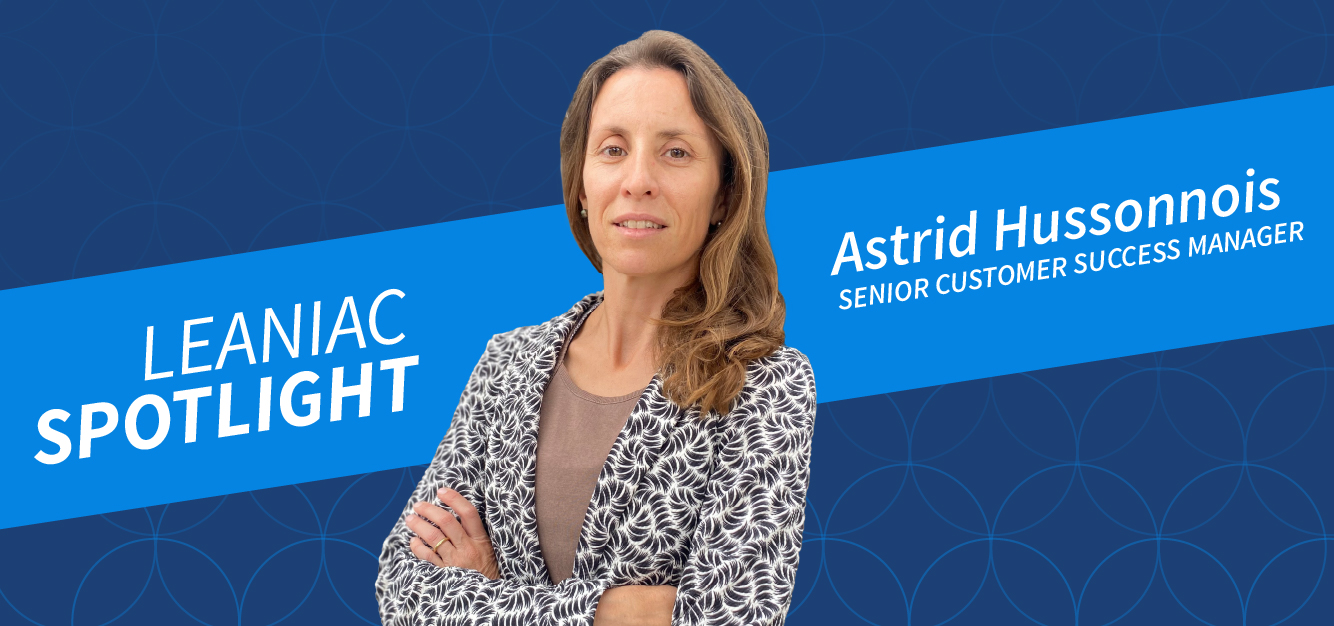 At LeanDNA, highlighting our Leaniacs' successes is one of our great honors. It is with great pleasure that we announce that Astrid Hussonois, Senior Customer Success Manager, has been named a 2021 Women in Supply Chain Award Winner. Anyone who has worked with Astrid can speak to how deserving she is of this award and we are so proud that she has received this industry honor.
"Astrid has been a vital addition to our team who works relentlessly to ensure our customers have the tools and support they need to deliver value for their companies. Our team is thrilled that her hard work and dedication have been recognized with this great honor." – Richard Lebovitz, CEO and Founder of LeanDNA
Hosted by Supply & Demand Chain Executive, this award recognizes the accomplishments of the supply chain leaders and executives who go above and beyond and use innovation in the supply chain to gain a competitive advantage. Winners of this award include women working in all sections of the supply chain, from SaaS companies to trucking and transportation firms.
After getting a Master's Degree in Strategy for Operations (Sourcing, Supply Chain and Quality) at ESCP Business School, Astrid began her career as a Supply Planner at the Heineken Group in France. Due to her skills and performance, she was quickly promoted and gained more responsibilities within the organization. After moving to the United States, she began working at Safran Aerospace and  Lean manufacturing.
"Before joining LeanDNA, I was on the customer's side, facing similar operational challenges. I was also part of the digital transformation initiatives, for solving the execution gaps in processes and systems through technologies. With this background, I'm very happy to share my experience and expertise in some domains with our customers and bring them the most value out of LeanDNA. It is a great tool that encompasses many of the challenges that I experienced throughout my career." – Astrid Hussonnois, Senior Customer Success Manager
In November of 2020, Astrid came upon a new opportunity in the SaaS industry—LeanDNA. In her current role as a Customer Success Senior Manager, she empowers LeanDNA's customers—buyers, analysts, suppliers, and supply chain managers and leaders—with the right technology and hands-on support to make their jobs easier and help them successfully optimize their inventory and procurement processes.
This award is not only a huge honor but specifically highlights the accomplishments of women as leaders and key contributors in the supply chain. Historically underrepresented in the industry, women are getting closer to parity in both the number of jobs and salary. "Having this whole other group of people with different experiences and different types of personalities has a huge impact on the culture of a company," says Astrid.
"I'm very honored to receive this award and delighted to share this recognition with my talented teammates at LeanDNA, continuously innovating to empower our customers towards Supply chain excellence." – Astrid Hussonnois, Senior Customer Success Manager
Astrid is a prime example of our talented team who is making waves in the supply chain industry. At LeanDNA, we strive every day to revolutionize the way manufacturers operate with the industry's only factory-centric, execution-focused solution.
Check out www.sdcexec.com to see the list of all of the Women in Supply Chain winners.