Key Takeaways From the State of Supply Chain 2022 Report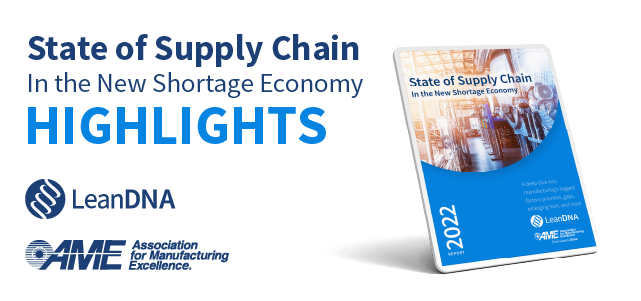 The methods and practices that made manufacturers successful decades ago don't cut it anymore. An increasingly global supply chain and supplier base, exceedingly customized orders, and overburdened planning and procurement teams are taking their toll on today's manufacturers. COVID-19 has only made things worse. 
To help manufacturers combat the challenges associated with globalization and customization, we conducted a survey with the Association for Manufacturing Excellence (AME) and compiled our findings in the "State of Supply Chain 2022 Report." Below we've summarized some of the most impactful takeaways.
Even before COVID-19, manufacturers were feeling pressured to digitally transform their operations. However, only a handful of them were implementing automation for key inventory aspects like decision support, data acquisition, and shortage prioritization and prevention. Today, most manufacturers are experiencing heightened internal pressures to digitally transform, specifically in areas that impact inventory savings and shortage management. 

Most manufacturers are held back by manual processes and disjointed systems. Processes like manipulating and analyzing data in spreadsheets are often time consuming and error-ridden. These processes prohibit planning and procurement teams from accessing the insights they need to guide their inventory actions. 33% of manufacturers cite a reliance on spreadsheets and manual processes as the number one technology gap in transforming factory operations management.

Manufacturers are making significant changes to their inventory and supply chain management strategy, and a key shift includes increasing visibility into factory inventory levels and requirements. However, 65% of manufacturers haven't started or are just starting their journey to transform their procurement process. Most manufacturers are still in the early stages of optimizing their inventory levels. 

The majority of manufacturers are still dealing with COVID-driven supply disruptions, including an increased difficulty forecasting demand, collaborating while working remotely, and demand increases that are driving shortage risk. Some manufacturers have realized that most of these issues can be addressed easily by digitally transforming their procurement processes.

The majority of manufacturers haven't yet automated the factory's most critical data and intelligence aspects. By implementing AI and advanced, prescriptive analytics for inventory management, factories can access and make decisions based on the most urgent and impactful inventory actions. This instant visibility empowers teams to quickly resolve disruptions, reduce excess inventory and critical shortages, improve delivery performance, and free up working capital.
Even though this "New Shortage Economy" has forced manufacturers to accelerate their large-scale digital transformation plans, companies are making great strides to improve their procurement and supply chain operations. However, there's still a lot of work to be done. For more of our insights into how manufacturers can best overcome today's market challenges, download the full "State of Supply Chain 2022 Report."
To continue the conversation, watch the round table discussion—including industry experts from LeanDNA, AME, and Deloitte—that took place during our March 2nd webinar. Hear their perspective on the current challenges manufacturers are facing, opportunities for improvement, and the overall "State of the Supply Chain" in 2022.