5 Ways Manufacturers Benefit from SaaS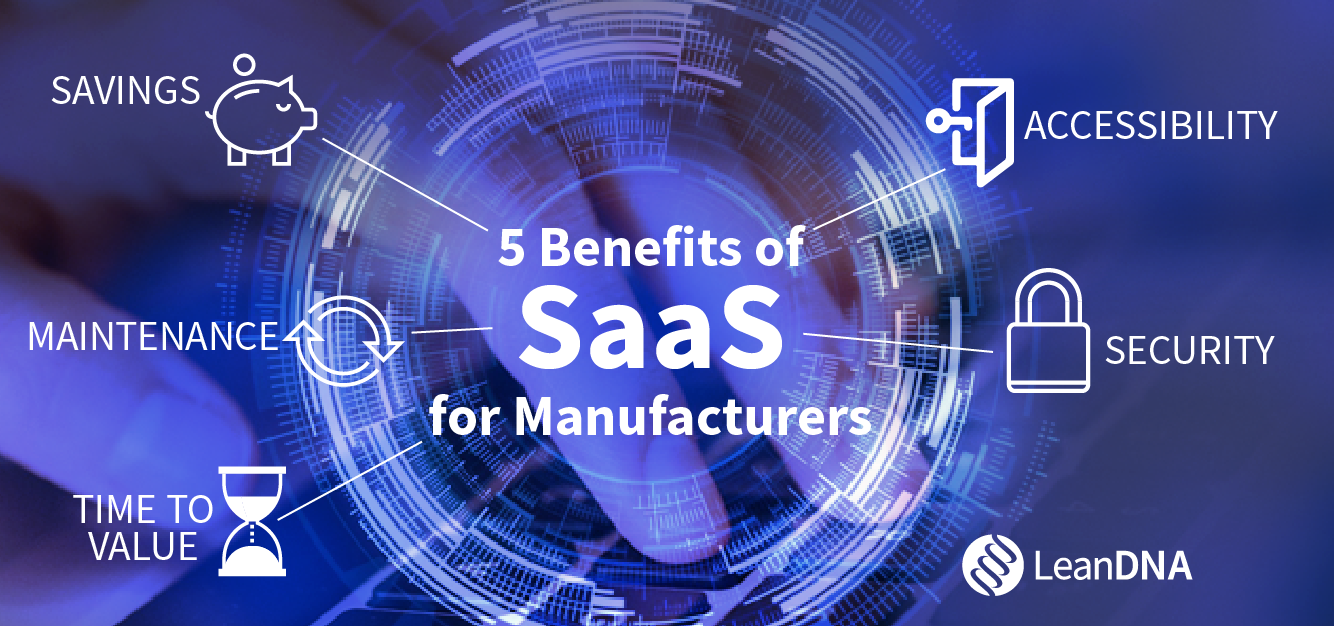 When it comes to technological advancements in manufacturing, many conjure up images of advanced robotics on the factory floor. While this technological investment has revolutionized the way manufacturers build their products, another technological wave is sweeping through the supply chain. This wave focuses on boosting the efficiency of the procurement and buying teams tasked with inventory management.
Software as a service (SaaS), cloud-based computing hosted remotely by a vendor and accessible over a network, has quickly proven to be a game changer in navigating the increasingly complex manufacturing landscape.
Below are five major ways that SaaS can boost productivity and efficiency.
1. Unlock Savings
For the most part, traditional software purchases require a large, upfront expense with limited installments. Most SaaS offerings are subscription-based, meaning you're renting the software on a monthly or yearly basis versus making a one-time purchase. Subscription-based SaaS offerings, however, typically have varying pricing options for different levels of service. On top of that, there are no mounting costs of maintaining or making improvements on the technology, with that responsibility falling on the vendor instead.
This secure, cloud-based technology also means there's no need for onsite infrastructure and the maintenance costs that go with it. With SaaS offerings, companies only pay for what they need, all of the information is stored securely in the cloud, and the licensing fees are considerably less expensive than a one-time software purchase or a homegrown reporting solution. Rather than a capital expenditure (CAPEX), SaaS offerings become an operating expense (OPEX) and free up cash that would otherwise be tied up in costly one-time purchases.
2. Upgrades and Improvements 
SaaS providers are constantly improving their solutions, with upgrades and new releases made immediately available for their subscribers. This is in stark contrast with the traditional software model that forces you to purchase upgrade packages and makes you responsible for installation. Many SaaS providers update features and functionalities on a regular basis, oftentimes weekly, meaning you are always working with the most efficient and innovative technology available and have access to a customer service team to troubleshoot with.
Many manufacturers depend on spreadsheets and homegrown reporting systems to house and analyze their inventory data. When it comes to upgrading or adjusting those sources, the responsibility falls on either the IT team that created the homegrown reporting solution or the team members who created the spreadsheets, resulting in a great deal of time and energy being taken away from their daily duties. Consistent upgrade rollouts from SaaS give those teams back that time and doesn't require them to lift a finger.
3. Free Up Time
SaaS solutions often boast a quick installation and implementation turn around, reducing the issues caused by traditional software deployment. With less time getting the software set up, teams have more time to onboard and become experts in the solution.
Manual processes and/or homegrown reporting can be time consuming, requiring teams to spend a majority of their time just inputting and analyzing data, rather than strategizing and acting on it. So much time is spent on the upkeep of these homegrown tools and maintaining integrations is typically cumbersome. With SaaS services, that time spent on manual processes is given back to teams, meaning they'll have the time and energy to focus on more impactful tasks. In doing so, teams can achieve value more quickly.
4. Accessibility
With SaaS offerings available to any team member with a stable internet connection, the software is easily accessible and information is stored securely in the cloud. This means that all of the team members can access the information on the software and are all viewing the same information, gaining total visibility and transparency. No more disparate sources of information or stale data.
Many manufacturers, like all industries, have been grappling with their teams working remotely. With shutdowns and safeguards in place, many companies can't have their full teams working out of the same location anymore. SaaS offerings ease the pain of remote work, with users able to access the information from varying locations and devices easily. This also provides access to extended team members, such as suppliers, to improve communication and collaboration.
5. Security
Security has often been a concern when it comes to SaaS offerings, but the security benefits provided today are notable. While multi-tenant platforms raised eyebrows a decade ago, they are now extremely commonplace. Today, manufacturers can rest assured that they are subscribing to the best of breed performance security platforms available, with regular internal security audits. Constant upgrades and improvements to the software ensure that the platform adapts to security threats and sensitive data and information is kept safe. Also, because SaaS applications have the ability to manage access and set permissions for all of its users, companies can tightly control their users' accessibility levels at all times.
In addition to these larger security measures, benefits from secure cloud based storage are a helpful asset for manufacturers, as well. For example, data from local files that can otherwise be lost is housed safely in the cloud, meaning important information never goes missing.
The Takeaway 
In today's workplace, teams want technology to aid and empower their daily duties, not make those tasks convoluted or harder to accomplish. By deploying SaaS solutions across the teams that are responsible for inventory management, navigating shortages, disruptions, and unreliable demand won't be as complex or reactionary.
READY TO LEARN HOW THE BEST-OF-BREED SAAS CAN WORK FOR YOU?
Schedule time with one of our experts to see how LeanDNA can help your company reduce excess inventory, stay on top of shortages, improve on-time delivery, and more.