COVID-19 has had a lasting impact on virtually every industry, and manufacturing is no exception. The pandemic has amplified supply chain optimization challenges that are increasingly complex, from highly customized orders, intricate sub-assemblies and parts sourced from more global suppliers, and overburdened planning and procurement teams.
In this "new shortage economy," it's increasingly evident that manufacturing's existing processes are in need of an upgrade. Additional insight and visibility into the supply chain is necessary for manufacturers to avoid shortages, optimize inventory, and save money.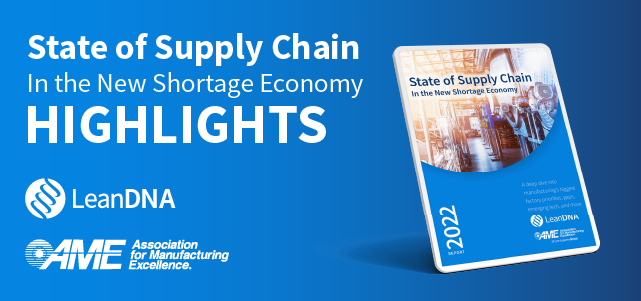 These are just some of the insights from the recently released "State of the Supply Chain 2022 Report" from LeanDNA and the Association for Manufacturing Excellence (AME). The report consists of global data collected from a wide variety of manufacturers about the specific areas in which manufacturers are looking to digitally invest, the top barriers inhibiting transformation, and the biggest opportunities on the table for 2022 and beyond. 
Highlights:
65% of manufacturers are increasing visibility into factory inventory levels and requirements because of COVID-19, with an eye towards managing shortages.
95% of manufacturers are investing in factory automation, but most haven't automated the factory's critical data and intelligence aspects.
The top hurdles to factory transformation are a lack of expertise (60%), lack of resources (46%), limited budget (43%), and ineffective change management (42%).
Supply teams are struggling with remote work as demand increases and shortages prevail.
Manufacturers are seeking cutting-edge technology, but manual spreadsheets, processes, and disparate systems are holding them back.
Top priorities include shortages (47%) and improving inventory turnover (43%), yet procurement and supply chain optimization teams don't have the information they need to increase factory efficiency.
It's clear the state of the supply chain isn't what it was decades ago. Manufacturers recognize the dire need to invest in digitally transforming their procurement and supply chain management processes as soon as possible. The report lays out three practical steps manufacturers can take to gain increased inventory visibility, make better decisions faster, reduce expenditures, and improve customer and supplier relationships. 
On March 2nd, we hosted a round table webinar with industry experts from
LeanDNA, AME, and Deloitte.